Scottish Highlands: Glen Coe & Isle of Skye
Back in February 2017 I visited Scotland for the first time. I spent 5 days up in the highlands and ended up falling in love with them.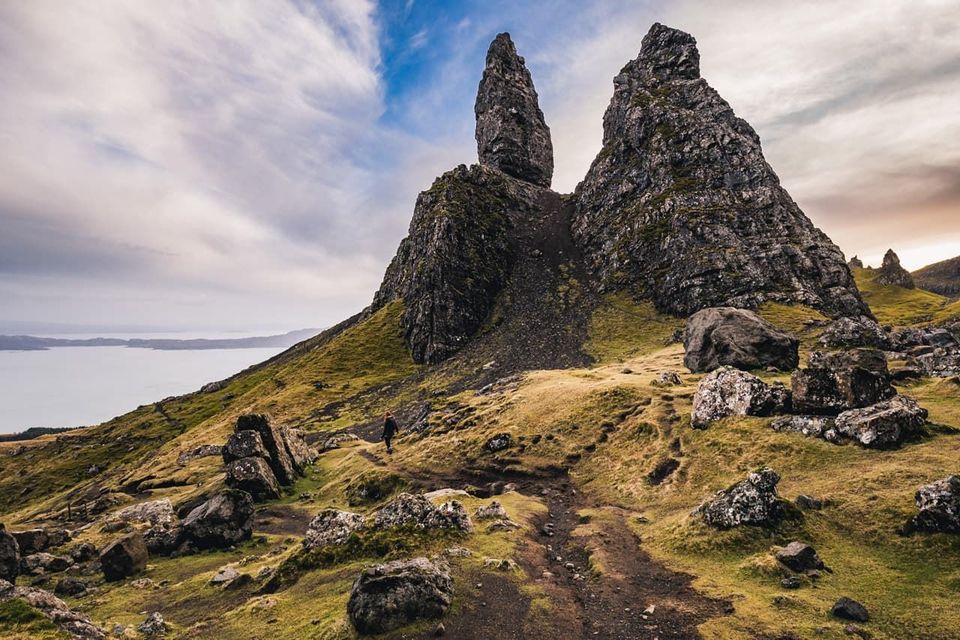 Back in February 2017 I visited Scotland for the first time. I spent 5 days up in the highlands and ended up falling in love with them. From the quaint little cottage in Kinlochleven, to the imposing valley of Glen Coe and the prehistoric Isle of Skye. I loved it all and I didn't want to leave.
In hindsight I'm glad that I didn't write this up immediately after returning as I didn't fully appreciate how much I loved it until I visited Canada and Switzerland later this year. I've now got the benefit of being able to compare them all and the Scottish Highlands have easily been one of my favourite places, potentially even the favourite. There's something about Scotland that I adore. Something to do with the colours and textures, and the way it looks beautiful regardless of the weather (and we certainly had it all).
If you ever get a chance to visit the highlands of Scotland you absolutely should, they're stunning and there's something for everyone. I'm certainly returning as soon as I can. My hope is that this post helps inspire you to go and visit it yourself.
This is my Scottish adventure.
Taking things for granted
For someone who has lived in the UK their entire life I've actually seen very little of it. And given the amount I've travelled worldwide it's silly to think that until recently I'd never visited Wales, Scotland or Ireland. In fact, I'd not really ventured further North than Greater London until last year! I'd fallen into the trap of not appreciating my surrounding and taking it for granted.
Things are different nowadays, I moved from London to Chester early last year and I spend many of my weekends exploring Snowdonia and North Wales. Since I moved further North I decided that I wanted to experience more of the collection of countries that I call home. First on the list was Scotland, a place that I've been desperate to visit for quite some time. So when Elen and I were deciding where to go on a short holiday, Scotland was the logical choice.
But where to go in Scotland? It turns out that's a very hard question to answer, at least for someone like me who has a huge list of places I want to visit. Fortunately availability on Airbnb helped narrow things down and we decided to stay in a little place called Kinlochleven, just North of the famous Glen Coe.
What I didn't appreciate at the time was quite how big Scotland actually is, and it's not quick to drive around once you get to the North of the country. Just driving up to Kinlochleven from Chester took a good 5 hours or so, and that was with clear and direct roads the whole way.
Kinlochleven
Our journey to Kinlochleven was fairly uneventful, helped by the constant rain and low cloud. We were worried that this was going to be an omen of things to come but fortunately the weather was good for us the rest of the trip. If anything the cloud acted as a sort of veil, keeping the landscape hidden from us until its grand reveal the following day.
After a long drive we arrived at the cottage and made ourselves at home. It's a beautiful little place, apparently the old stables for the groundskeeper who used to live in the larger cottage next door. Of course you'd never be able to tell that now, it's all very modern and comfortable inside. We were warm and had everything we needed.
On our first night in Kinlochleven we were treated to a clear sky and we spent quite a while standing at the front door and taking in the view. It was particularly cold that night (it was February in Scotland after all) but I convinced myself to go out with the tripod for a few minutes and I'm glad that I did.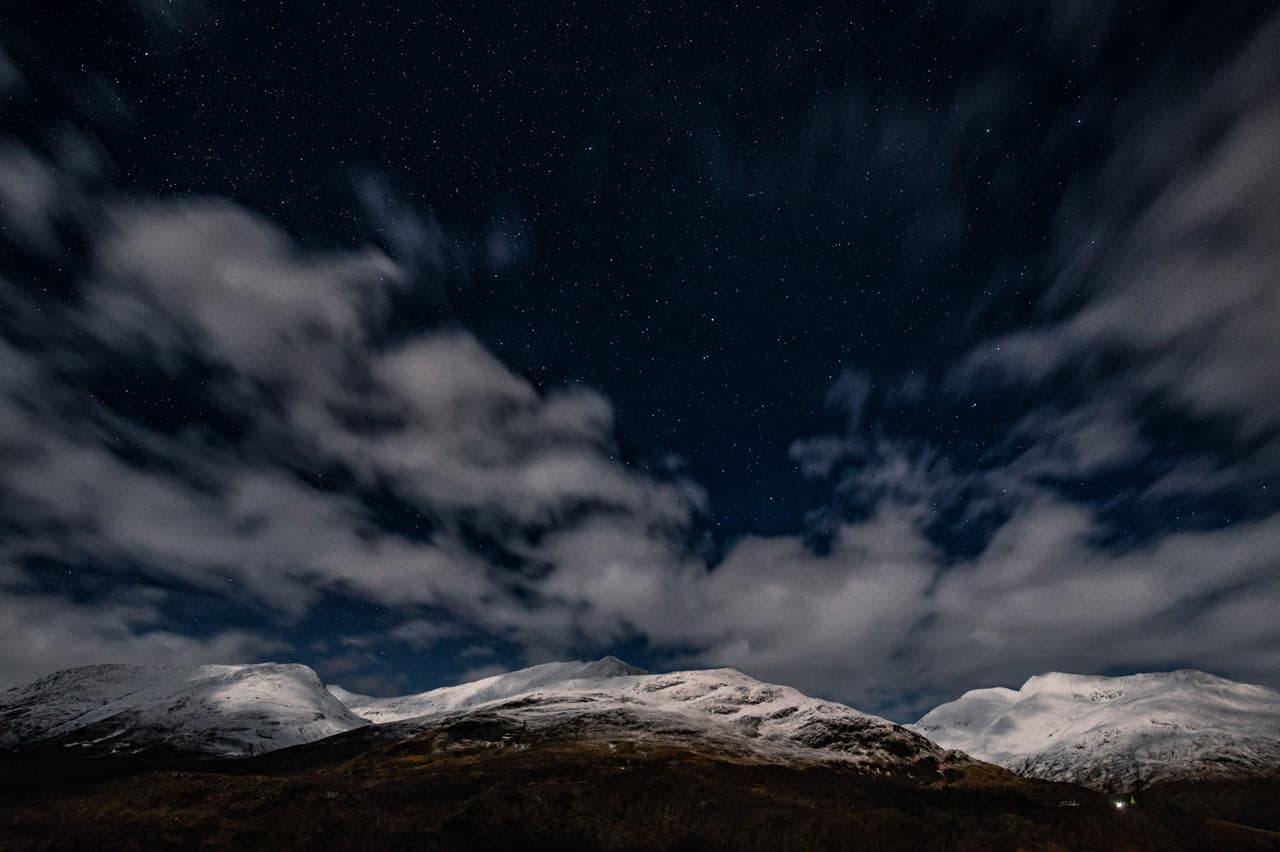 The cottage itself is nestled high on the South side of the valley overlooking Loch Leven, and aside from its sister cottage next door it was entirely on it's own up there. We later discovered that if the other side of the valley was a little lower we'd have had a fantastic view of Ben Nevis!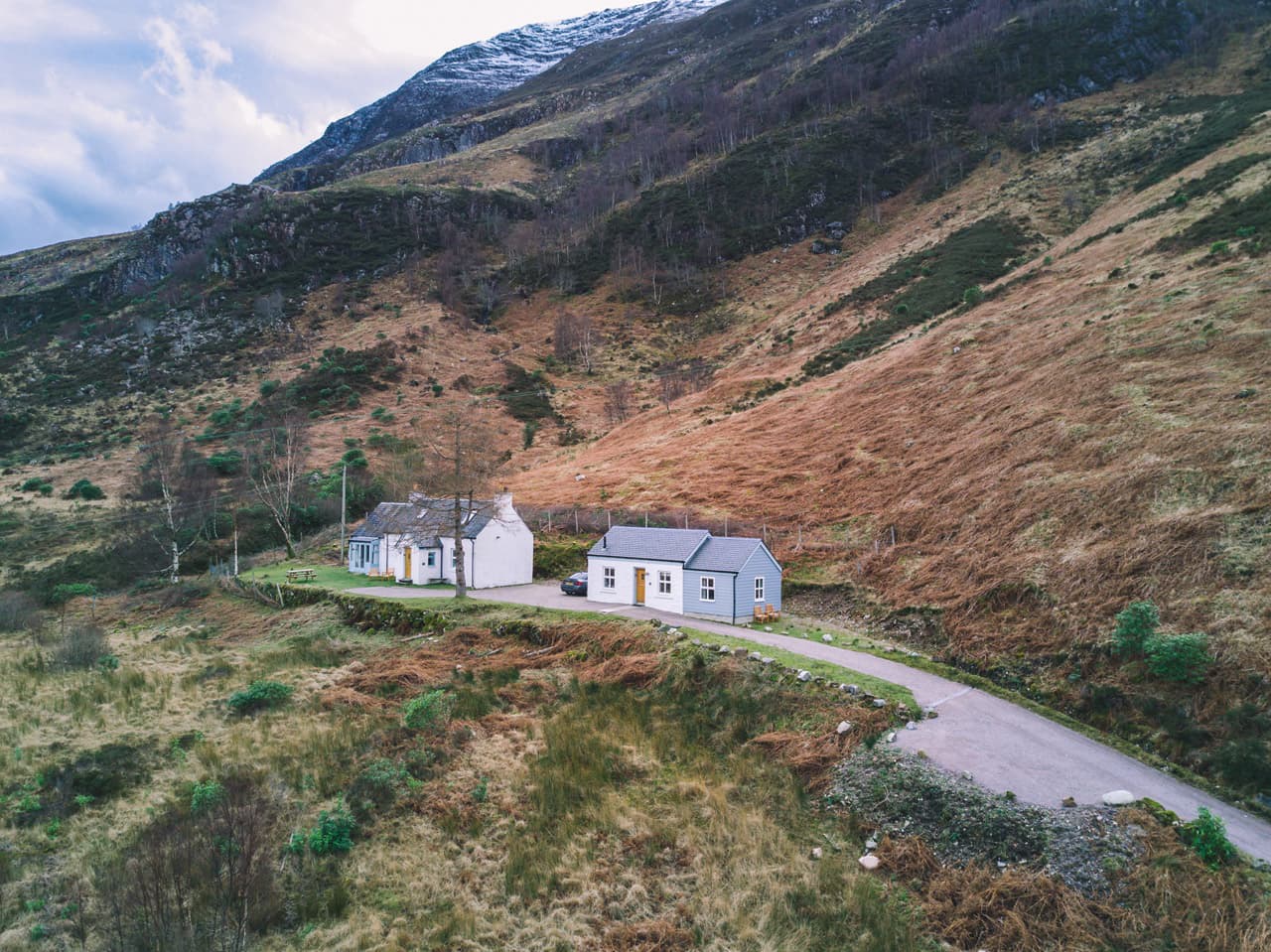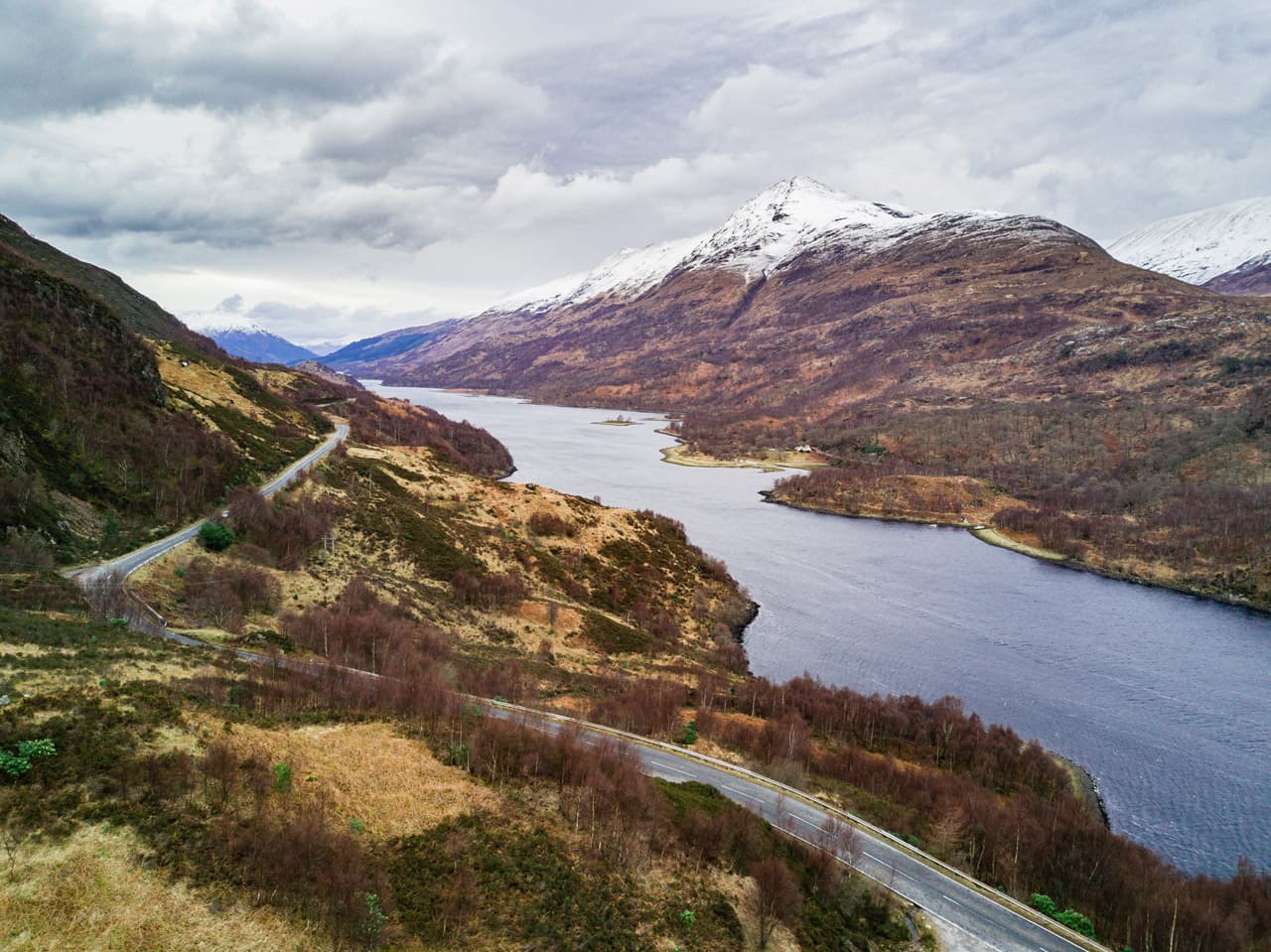 Surrounding the cottage were a collection of waterfalls, the sounds of which were incredibly relaxing. We spent one of the days exploring the mountainside behind the cottage and clambering around with our cameras on the hunt for more waterfalls.
During that hunt I nearly broke my ankle 5 metres from the cottage and then continued the fun by losing my footing next to a waterfall and both nearly falling in as well as narrowly avoiding crushing my camera at the same time. Not satisfied with that much excitement in one day I decided it would be a great idea to step into a small bush on my way down, only to discover that there was a 2ft drop under the bush and doing an involuntary front-roll as my foot descended into nothingness and somehow landing back on my feet. How I didn't break anything that day I have no idea! I spent most of my time looking at my feet from that point on.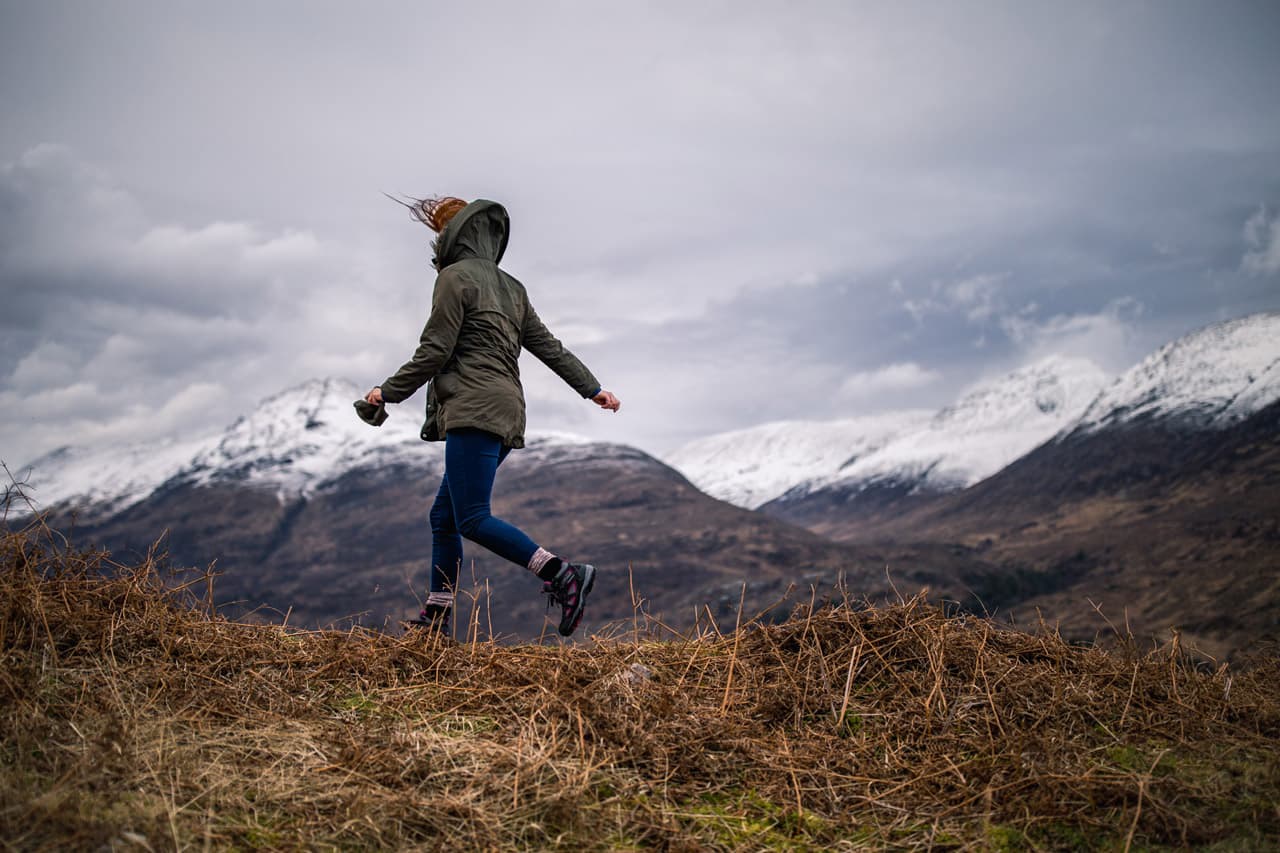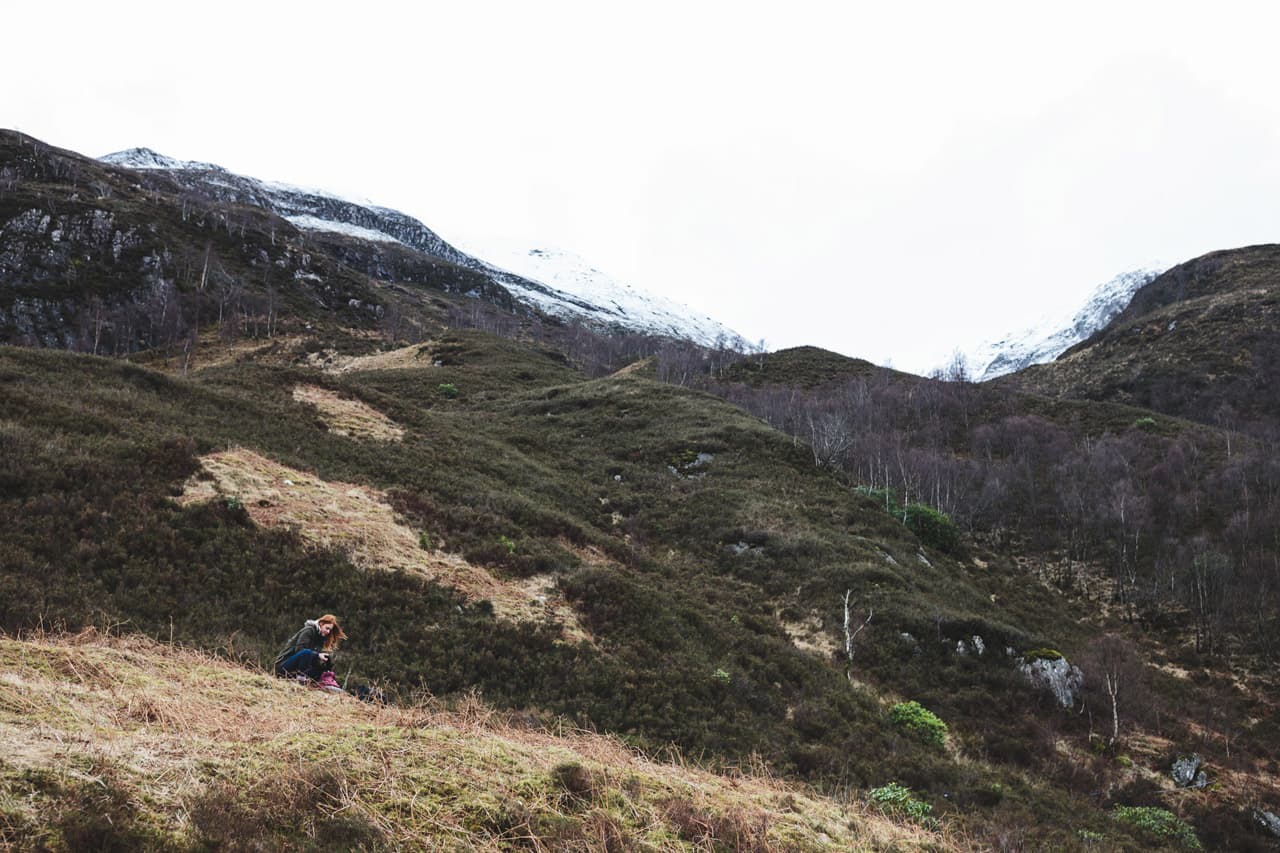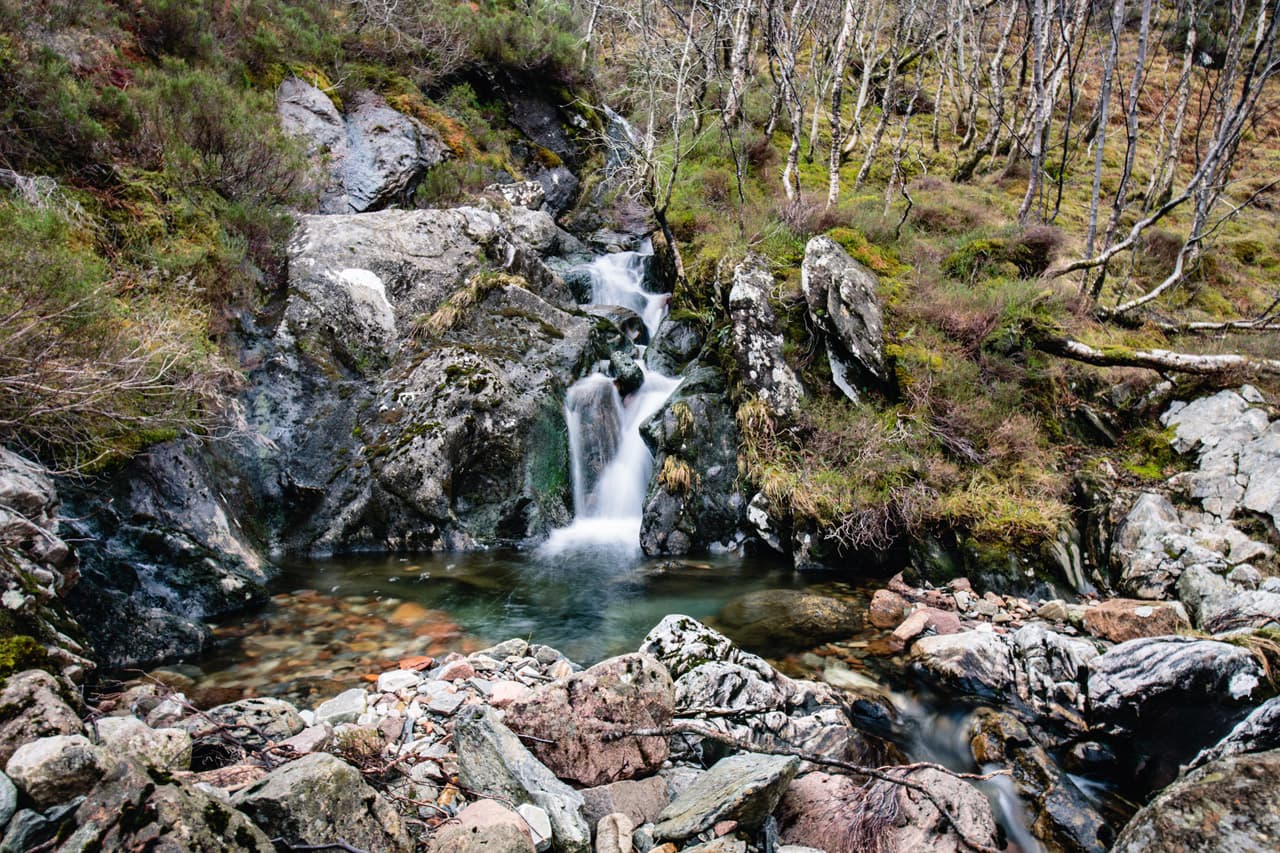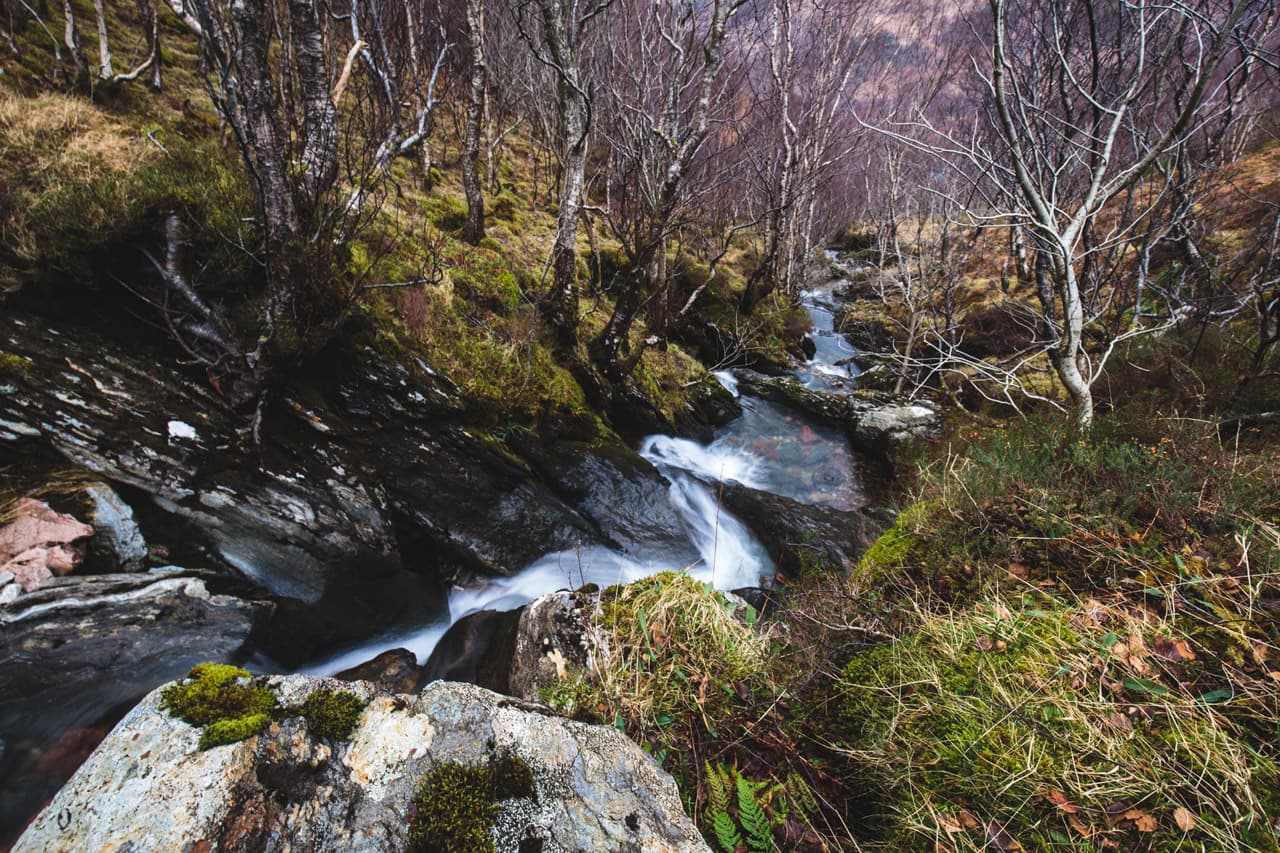 Glen Coe
Glen Coe was mostly hidden by cloud and rain on our way up to Scotland so I was curious what it was going to look like. It's a place I'd wanted to see for a while and I was trying not to get my hopes up. Would it live up to my expectations based on the photos I'd seen? The short answer is yes, and then some!
Our time in Glen Coe didn't get off to a great start as the weather was still pretty crappy from the first day, so after a false start wandering the valley in the rain we went to Ballachulish and waited out the rain. We didn't need to wait long and before long the sun was out and we even had some blue sky!
On our way back into Glen Coe we stopped off by Loch Leven and I used the good weather as an excuse to pull out the drone. I'd not had the Mavic Pro long and I was itching to get it up in the air while I could. There was a lovely little island a hundred metres out or so and I decided today was the day I'd fly over a body of water for the first time. Even though I was familiar with drones by then I was still pretty nervous about taking it over water.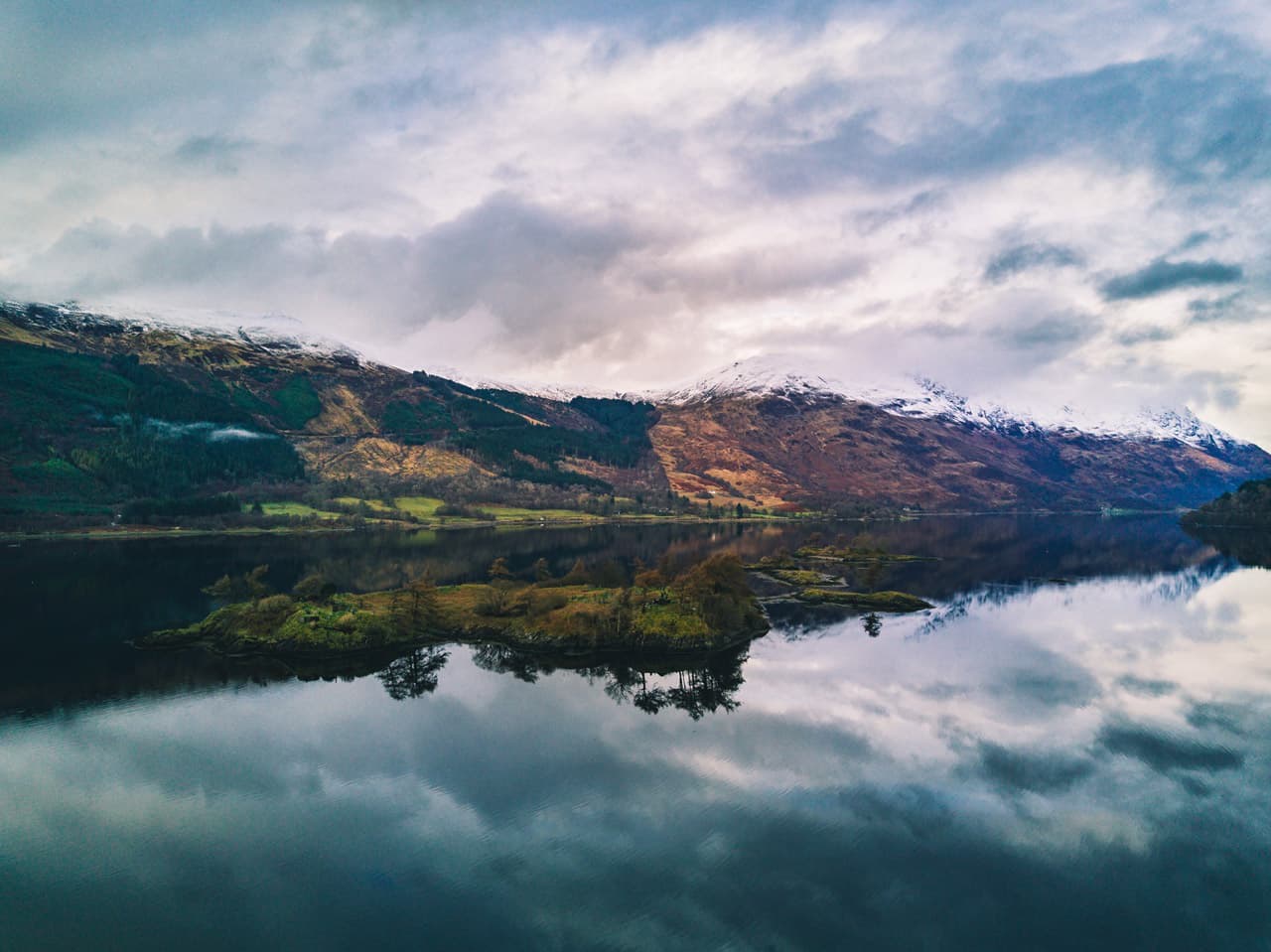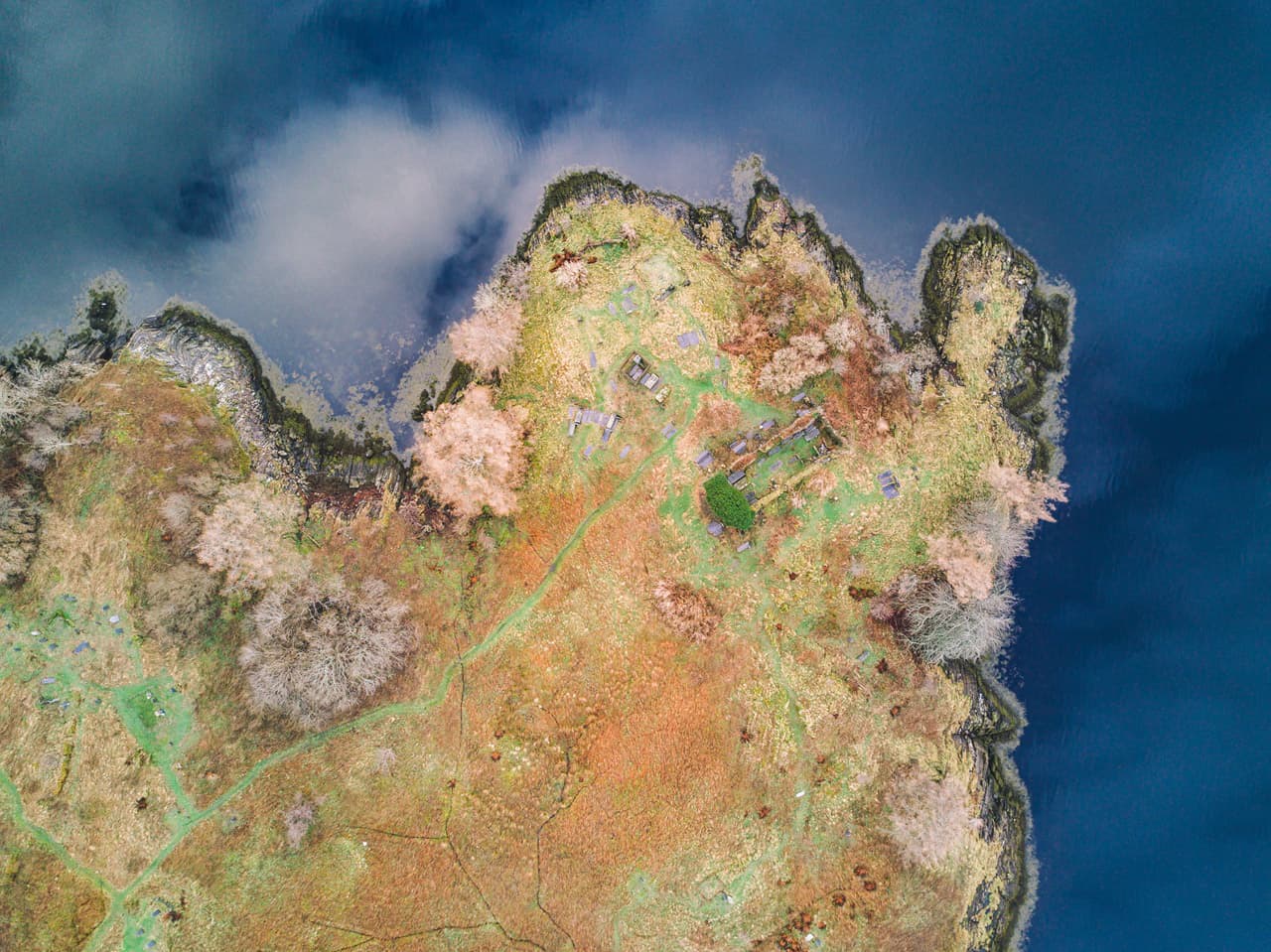 Once I got the drone over the island I could see on the screen that there were lots of graves scattered across it. Certainly not what I expected to find out there! I'm not sure what the story is behind the island graveyard but I decided not to stick around for long and move on.
We parked back at the same spot in Glen Coe, not far from the viewpoint for the Three Sisters, and clambered back up the hill we found earlier in the day. The weather was much better this time, dry but still cloudy and moody. Even better was that the sunset was casting some tasty light on the side of the valley and creating some nice colours in the sky. We spent a good couple of hours on the hillside taking in the view across the valley. It was perfect.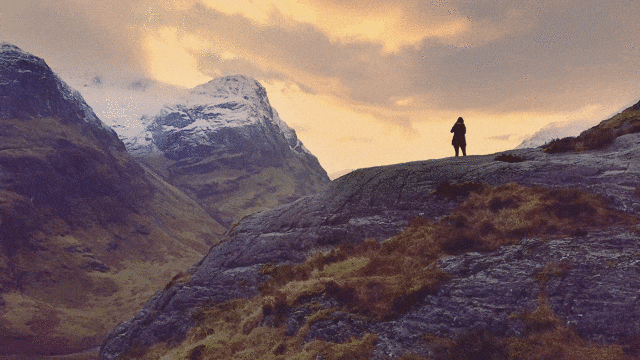 The A82 through Glen Coe is the main road to this part of Scotland and we became quite familiar with it by the end of the trip. On our way home we made sure to stop off at a couple of places we'd seen before and didn't want to miss.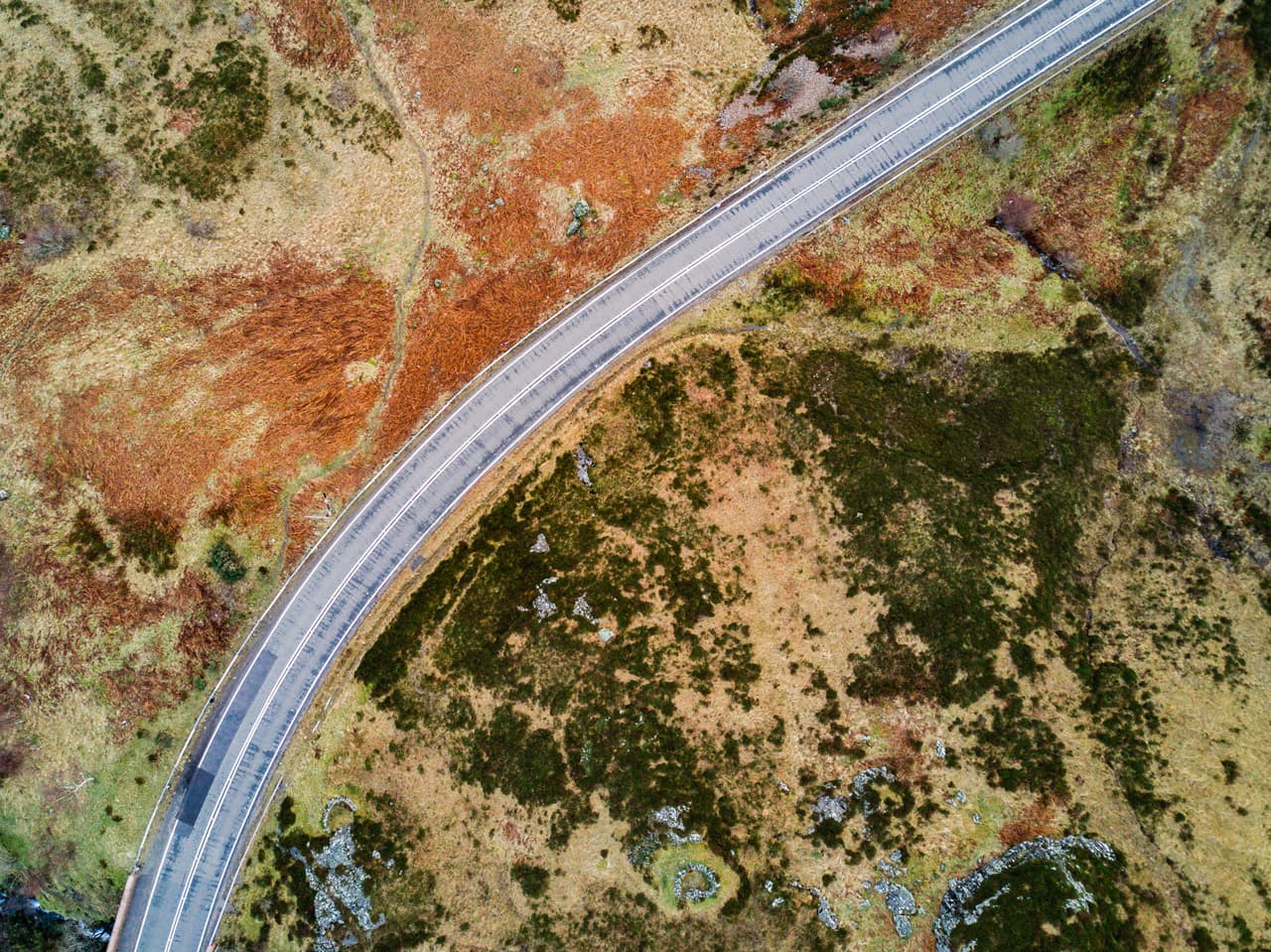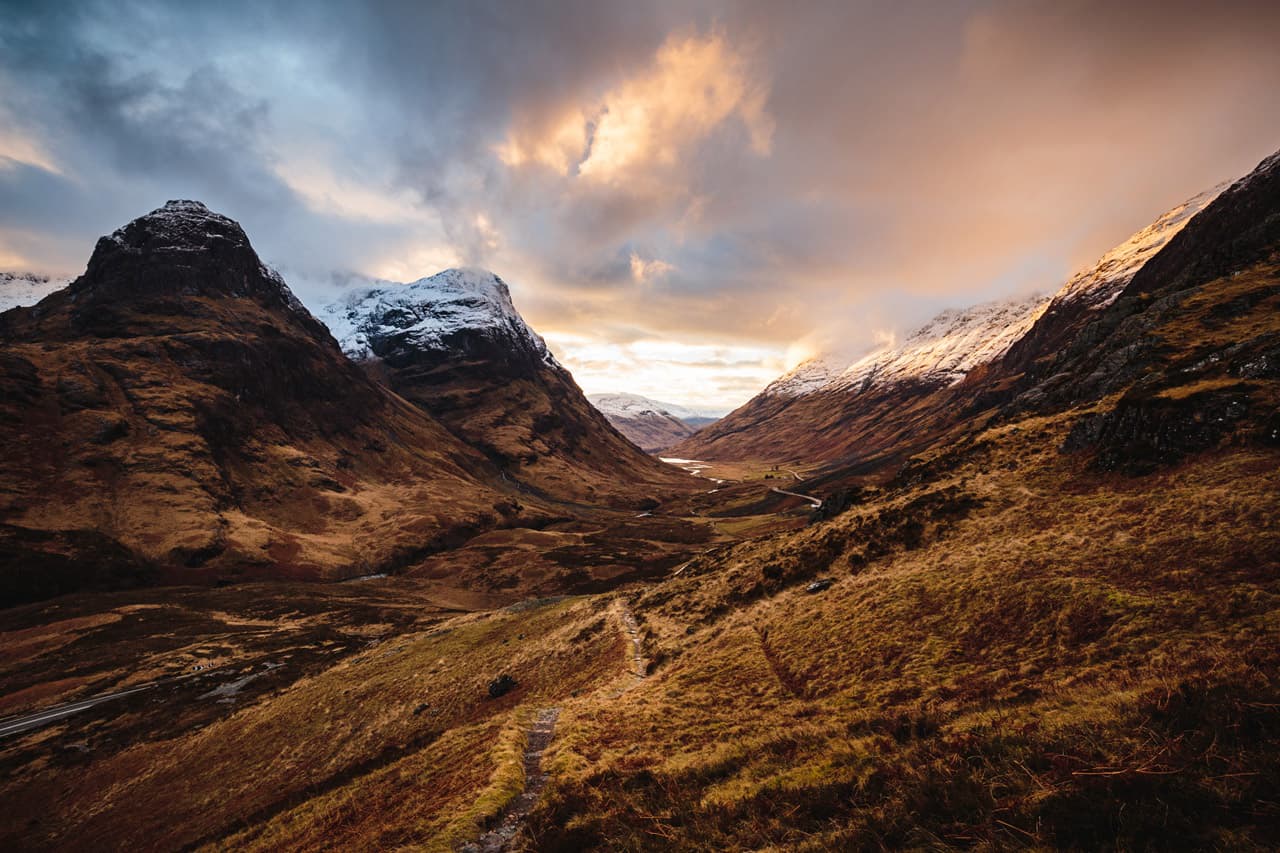 One of those places was a beautiful little cottage alongside a lake by the Three Sisters. We still aren't sure exactly whether someone lives there but it was certainly in use and there was a National Trust plaque on a small wooden bridge we had to walk over, though stupidly I didn't stop to read it.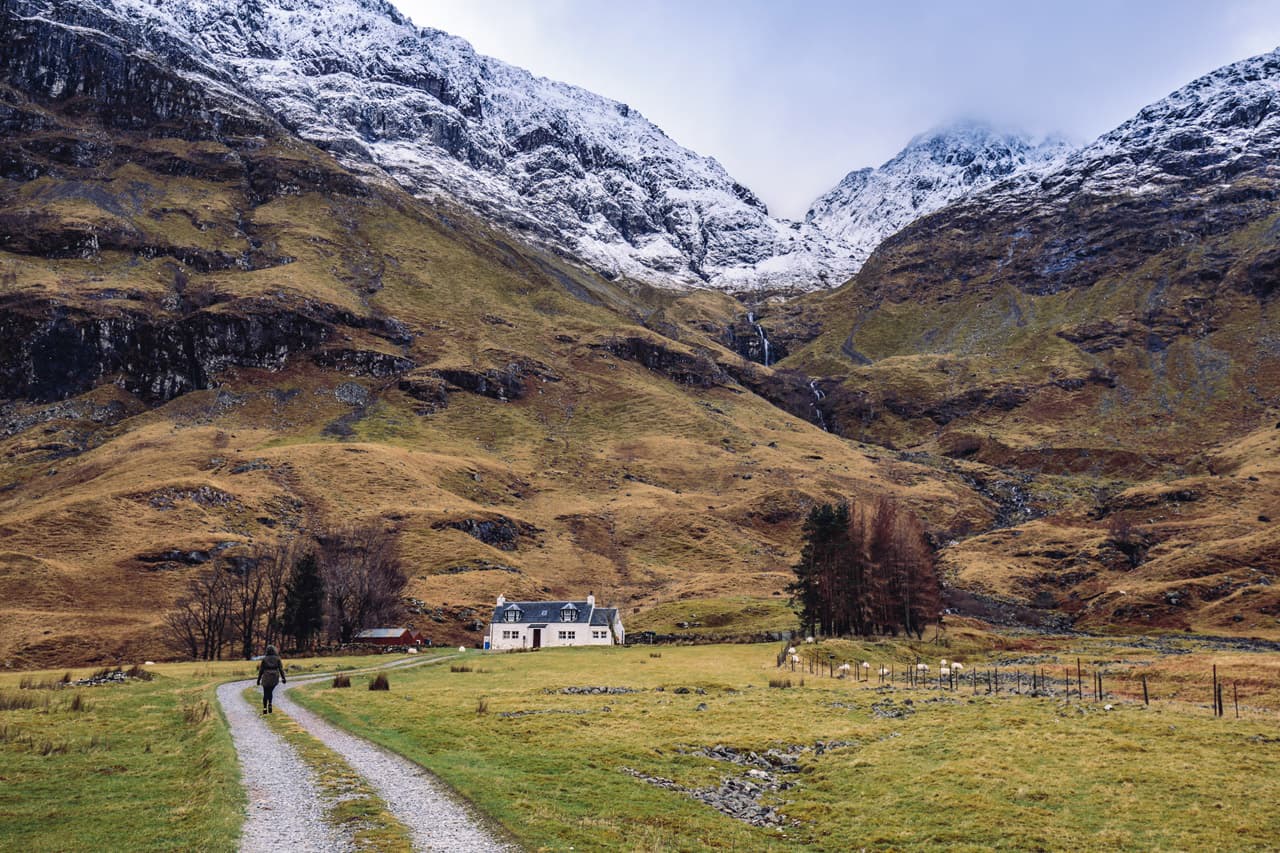 Part of Glen Coe we didn't get to see on the way up was the flatter area further South. Fortunately we got to see it on the way back and it was stunning, especially with the scattering of snow it had received in the days before. Not many places suit moody weather, though Glen Coe certainly does! I'd actually go as far to say that I may not have enjoyed the area as much if the weather wasn't as moody. I can probably say that for just a handful of other places, Snowdonia being one of the others.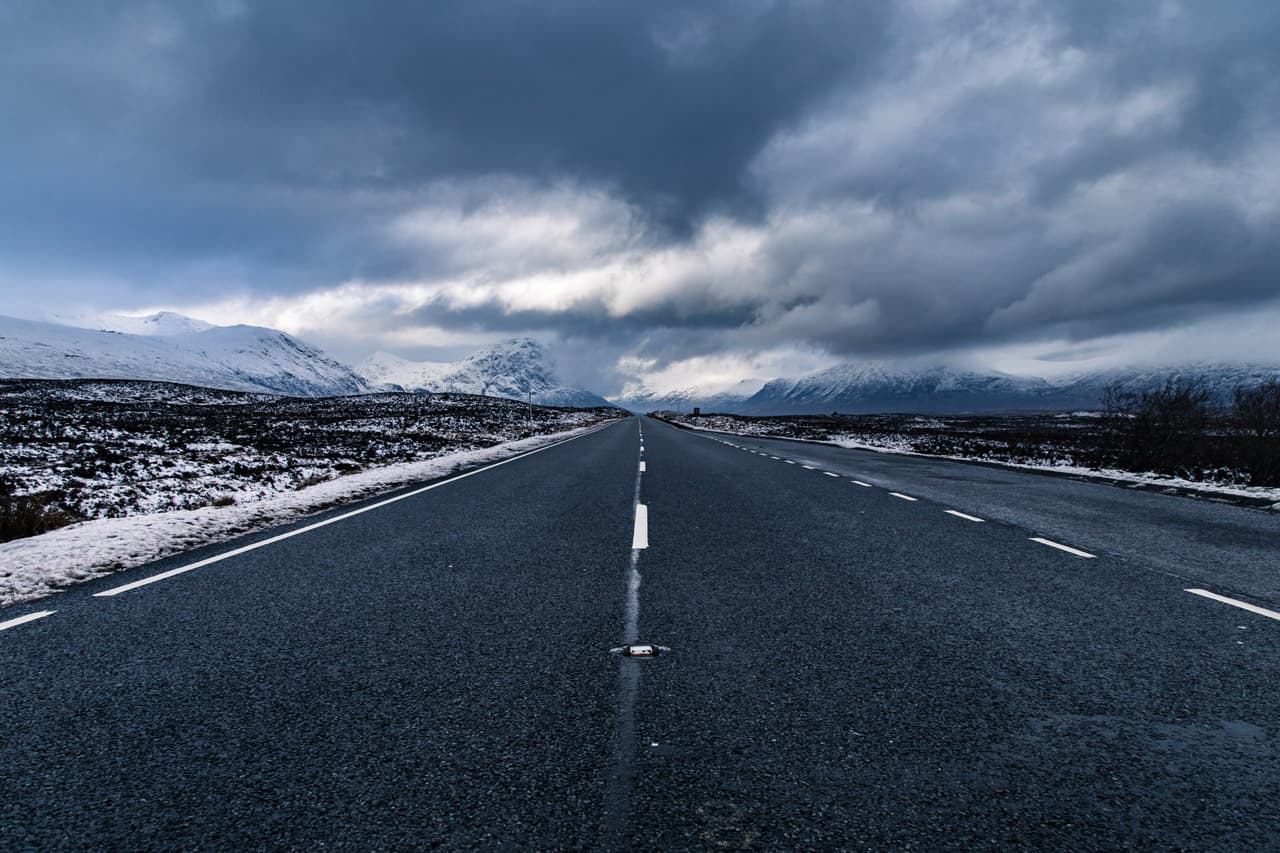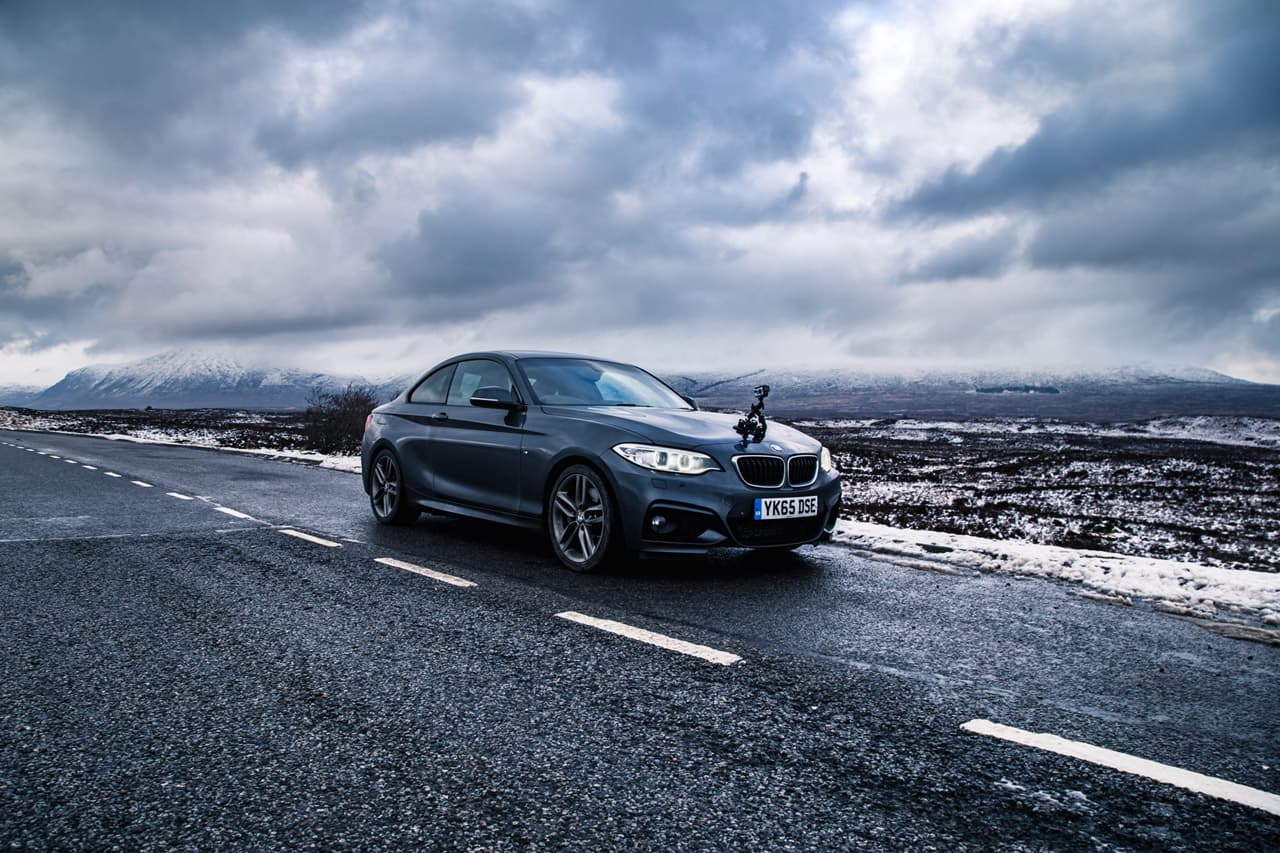 Isle of Skye
If I was to pick one place in the Scottish Highlands that I was most looking forward to seeing it would have to be the Isle of Skye, particularly the Old Man of Storr. I'd seen so many photos of Skye when researching the trip and I was itching to get out there and see it with my own eyes.
I wasn't even sure if we'd be able to make a visit to Skye happen as it was a good 3-hour drive from the cottage and we needed to drive there and back in one day. We decided we'd only do it if the weather looked like it would make the effort worthwhile. Fortunately for us there was a perfect forecast for one day and one day only. We were going to Skye!
Our drive to Skye started before the sun had even risen. It was going to be a long drive and I had a feeling we'd be making plenty of stops along the way so we thought it best to get as much time out there as possible. It's a good thing we left so early as we didn't cross the bridge to Skye until 11am, or even make it to Storr until well after midday. Skye was much larger than I anticipated.
The reason for the delay was that we came across Glen Moriston and Loch Cluanie on the way. It wasn't somewhere we'd planned to stop but there was a really nice layer of mist over the forest there so we pulled over to get some photos while it lasted.
I wasn't having much luck from the ground so I sent the drone up instead, and boy am I glad I did as the view from above was something special. There's something amazing about flying a drone over a misty forest. I even managed to find what I can only describe as Scotland's version of a Stargate!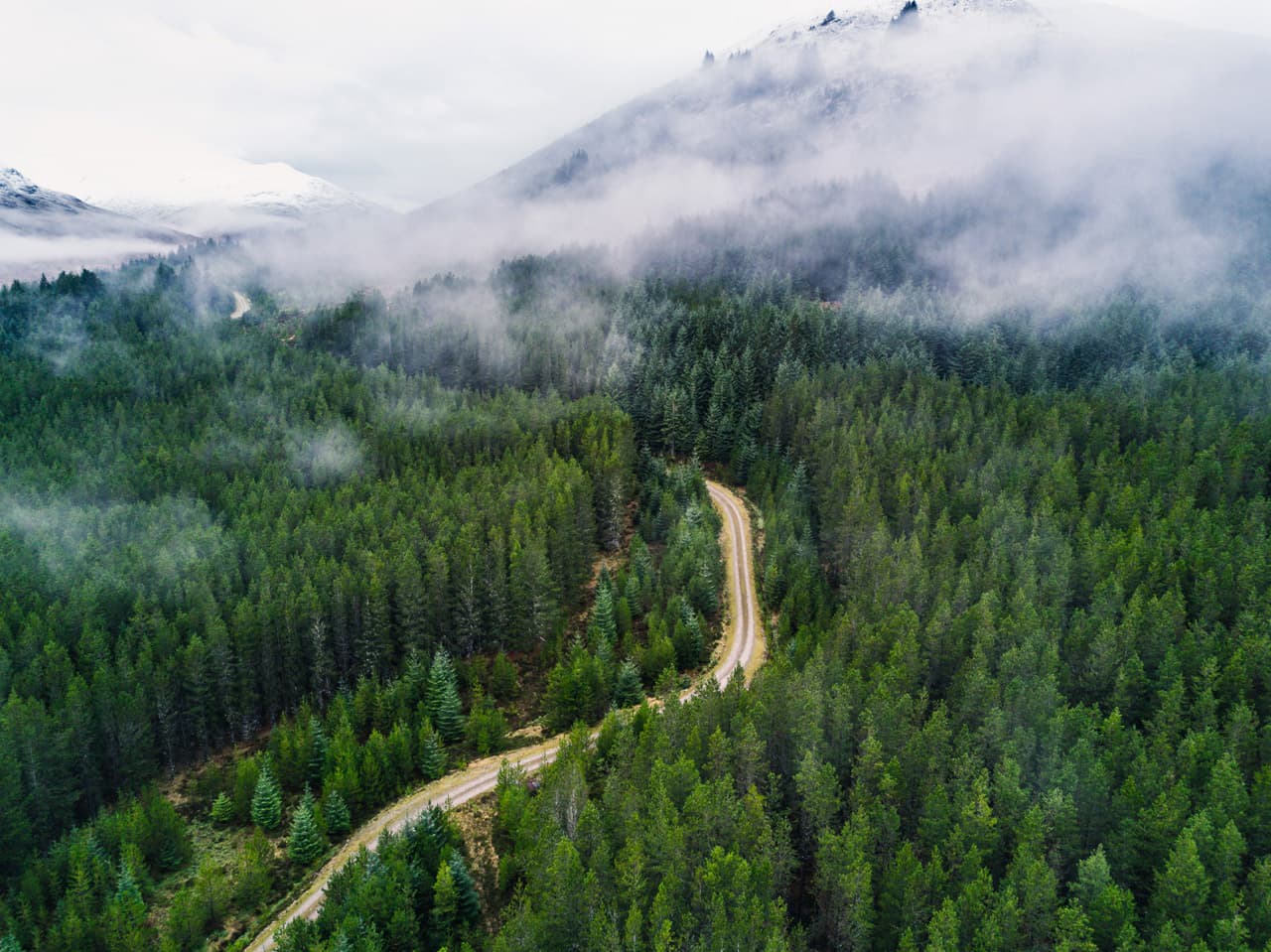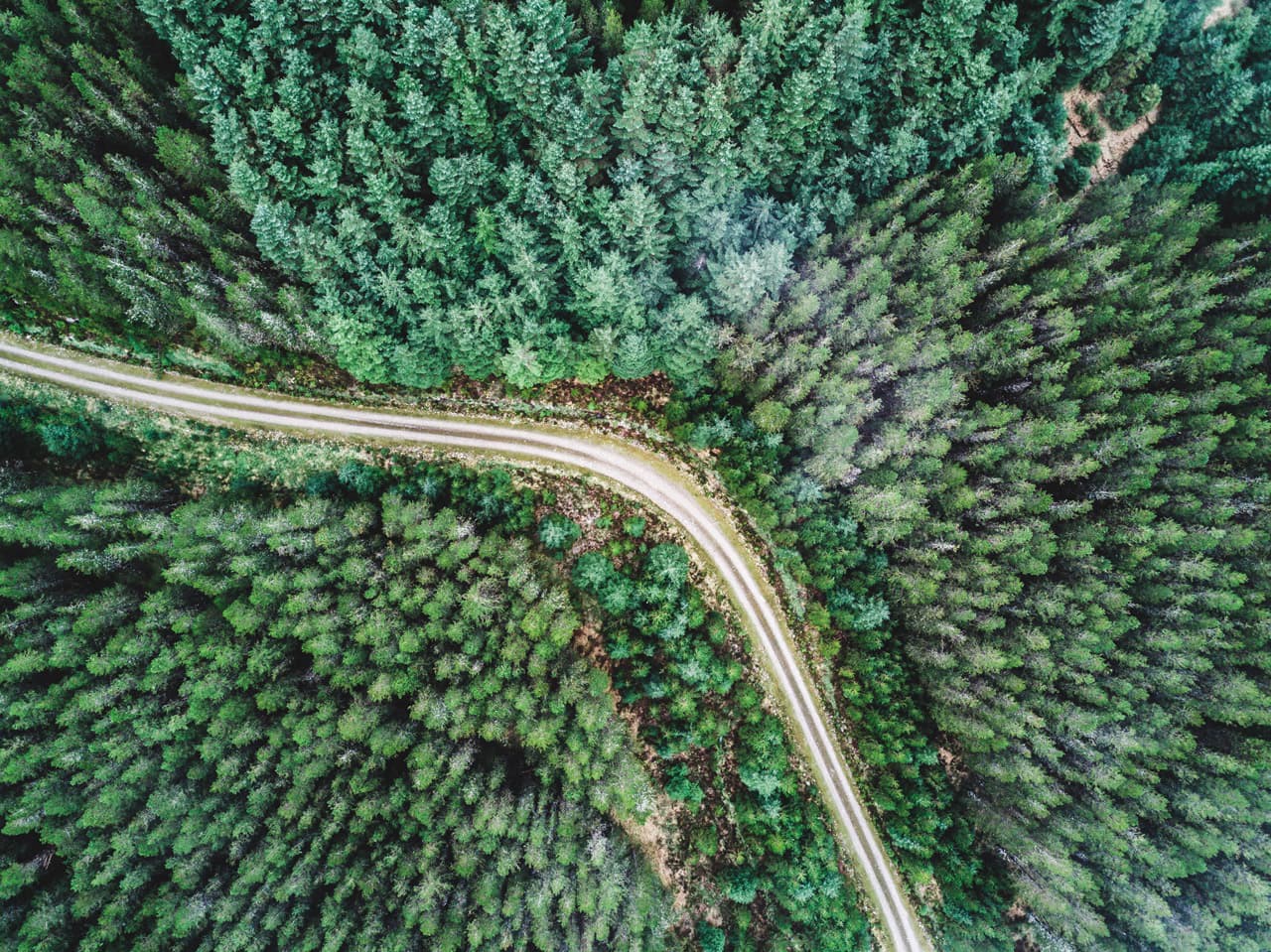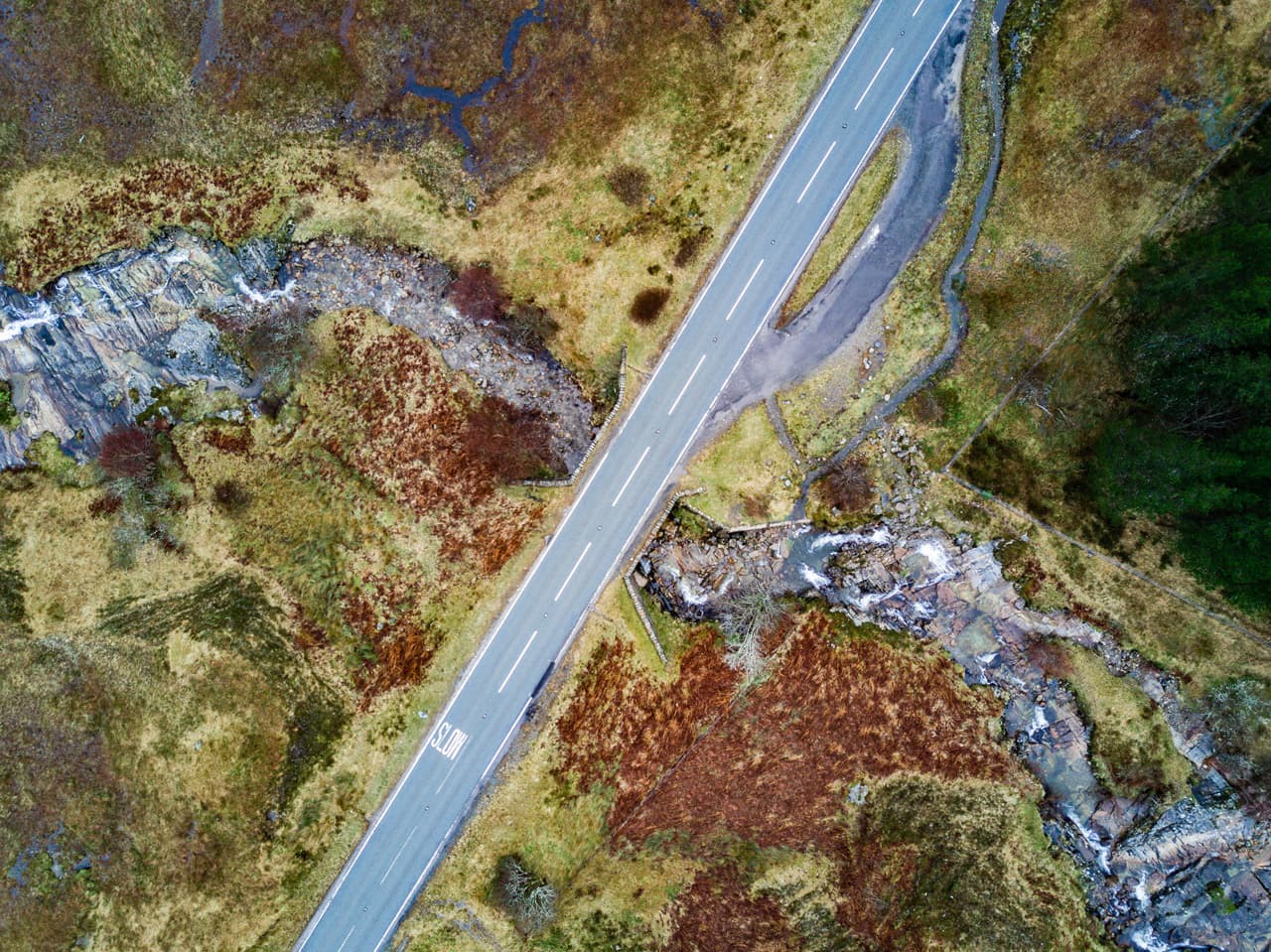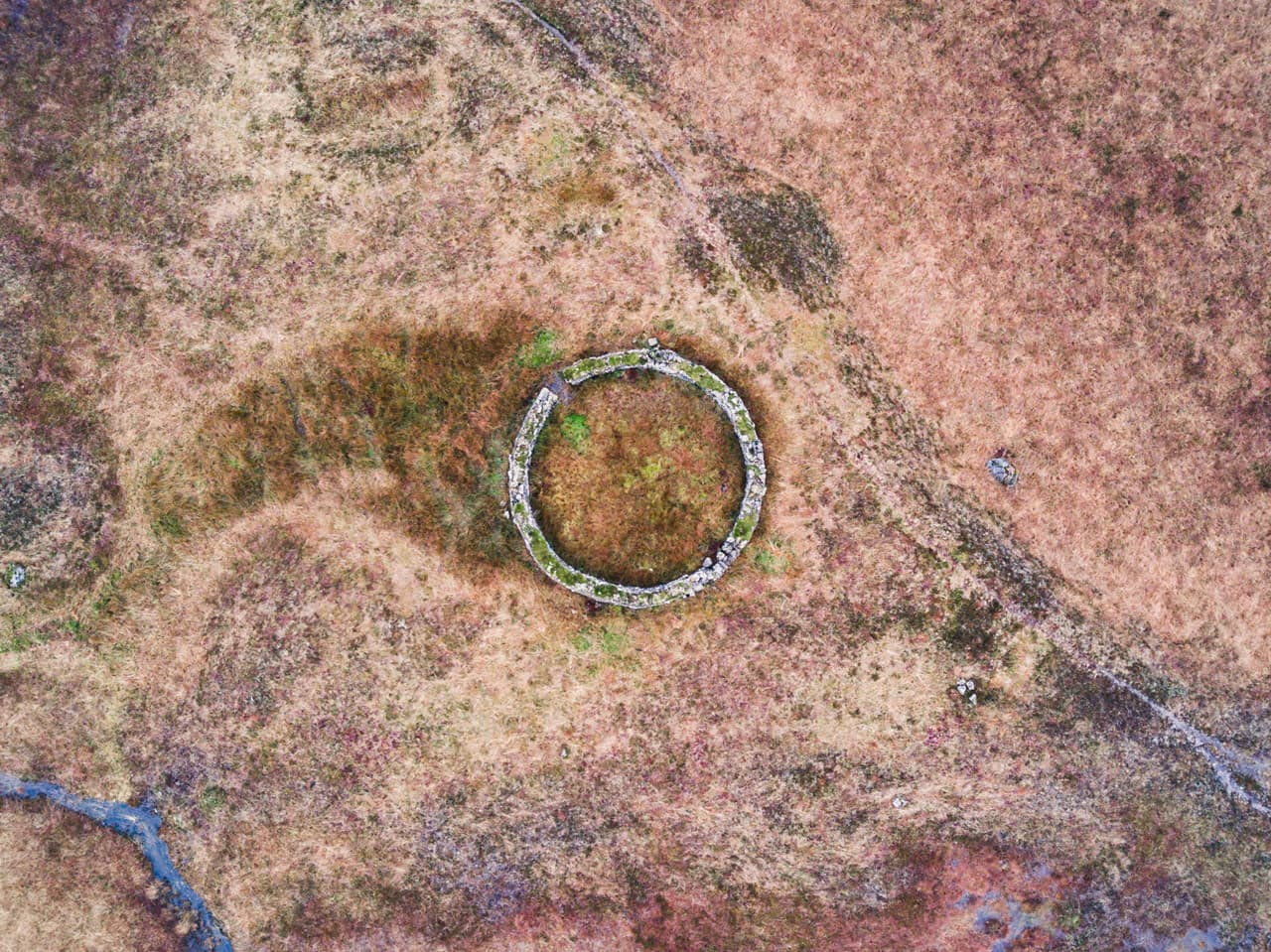 The roads between Glen Coe and Skye were pretty special and very fun to drive. In fairness most of the roads in the highlands were fun to drive and had great views. Driving around up there was part of the adventure and I enjoyed it just as much as when we were exploring on foot. It also helped that I had a camera strapped to the front of the car to capture things on the move.
Once we made it over the bridge we only stopped once before Storr, at a waterfall near Blackhill. This was another unplanned stop but it looked fun and had a lay-by so why not. However, I wasn't getting the results I wanted from the ground so up went the drone for the second time that day (I'm glad I had extra batteries!). The perspective from the air was so much better.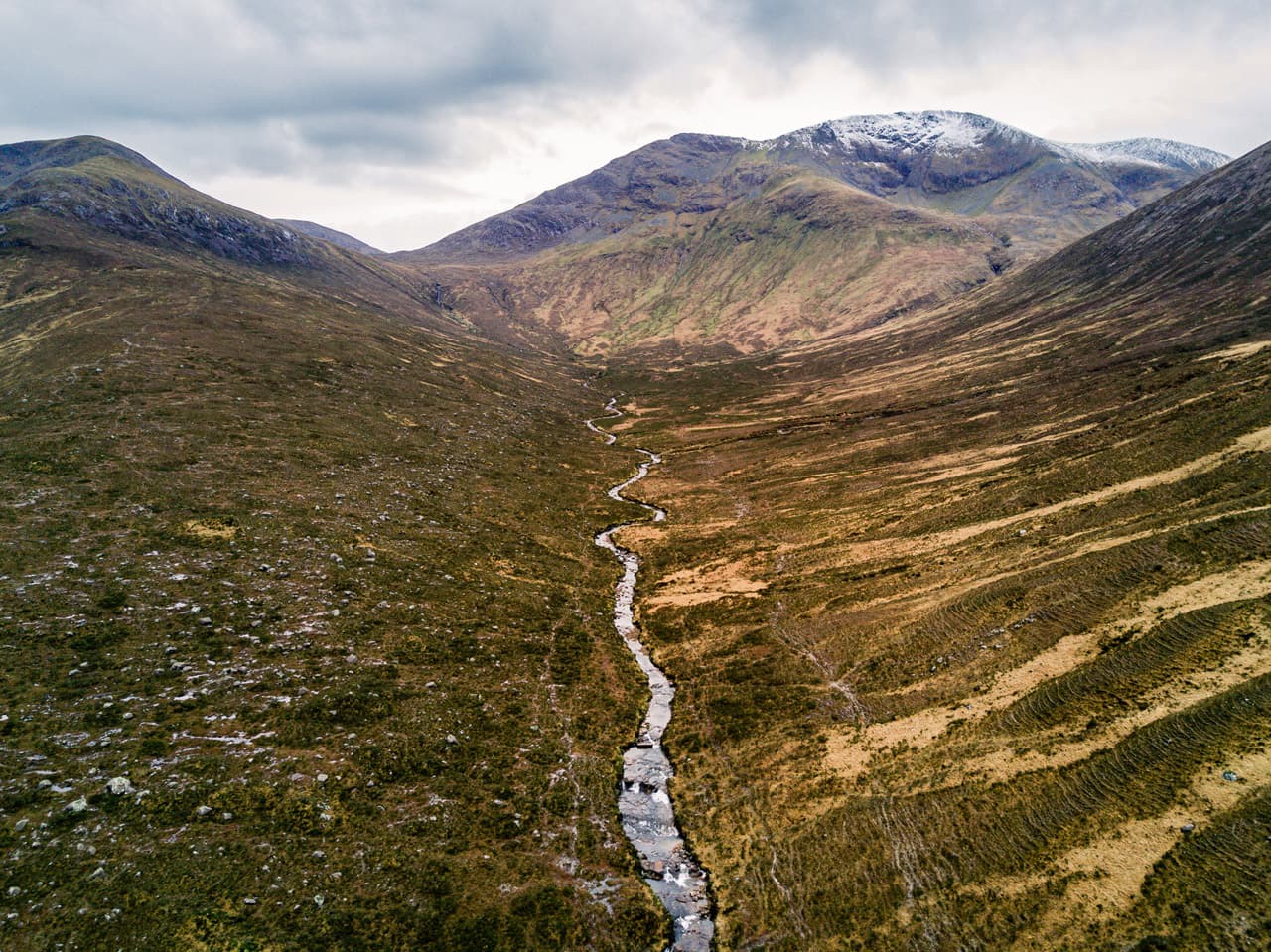 It didn't take much longer to reach The Old Man of Storr. We caught sight of it quite a way out, a tiny spike of rock sticking out of the ground in the distance. Even when we got close it still didn't feel that big, which was confusing as it always looked so large in the photos I'd seen.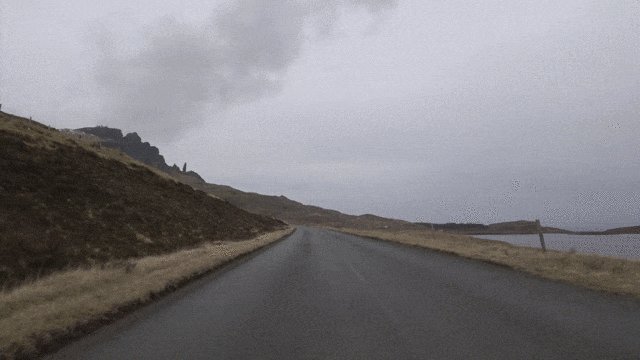 I soon found out that this was an optical illusion caused by the placement of the rock formation high up on the hillside, coupled with it being overshadowed by The Storr, a mountain-sized slab of rock sitting behind it. The whole place was beautiful and we'd only seen it from the car park by this point.
It was only as we made our way up on foot that the scale of The Old Man of Storr started to sink in. It's huge. A jagged rock formation that looks like it's defying gravity in the way that it stands upright, albeit slightly at an angle. It's surprising it hasn't fallen down, especially considering it was created by a gigantic ancient landslide. If you're at all into geology then I highly recommended looking into how The Old Man of Storr came to be, it's fascinating. In fact the story about how Skye itself came to be is also interesting.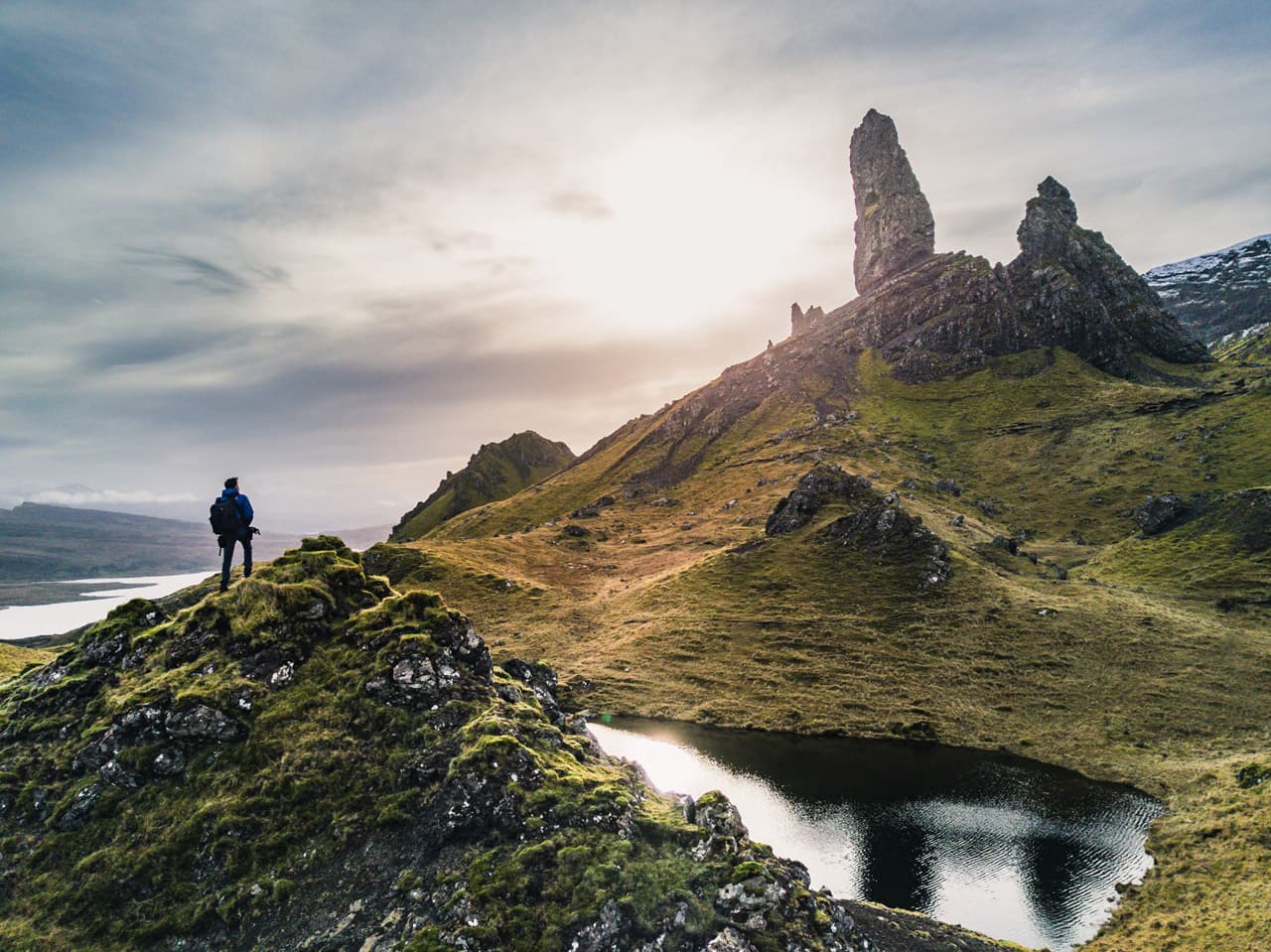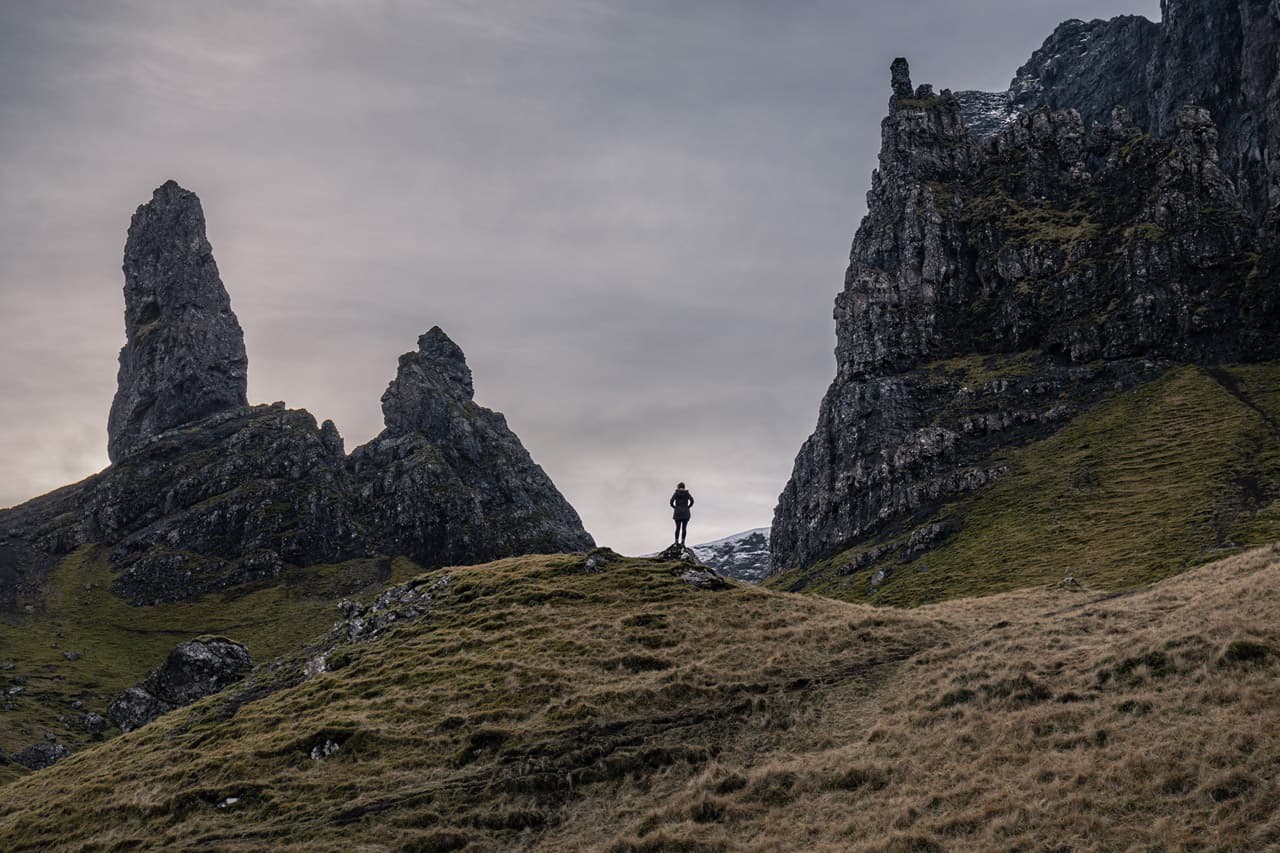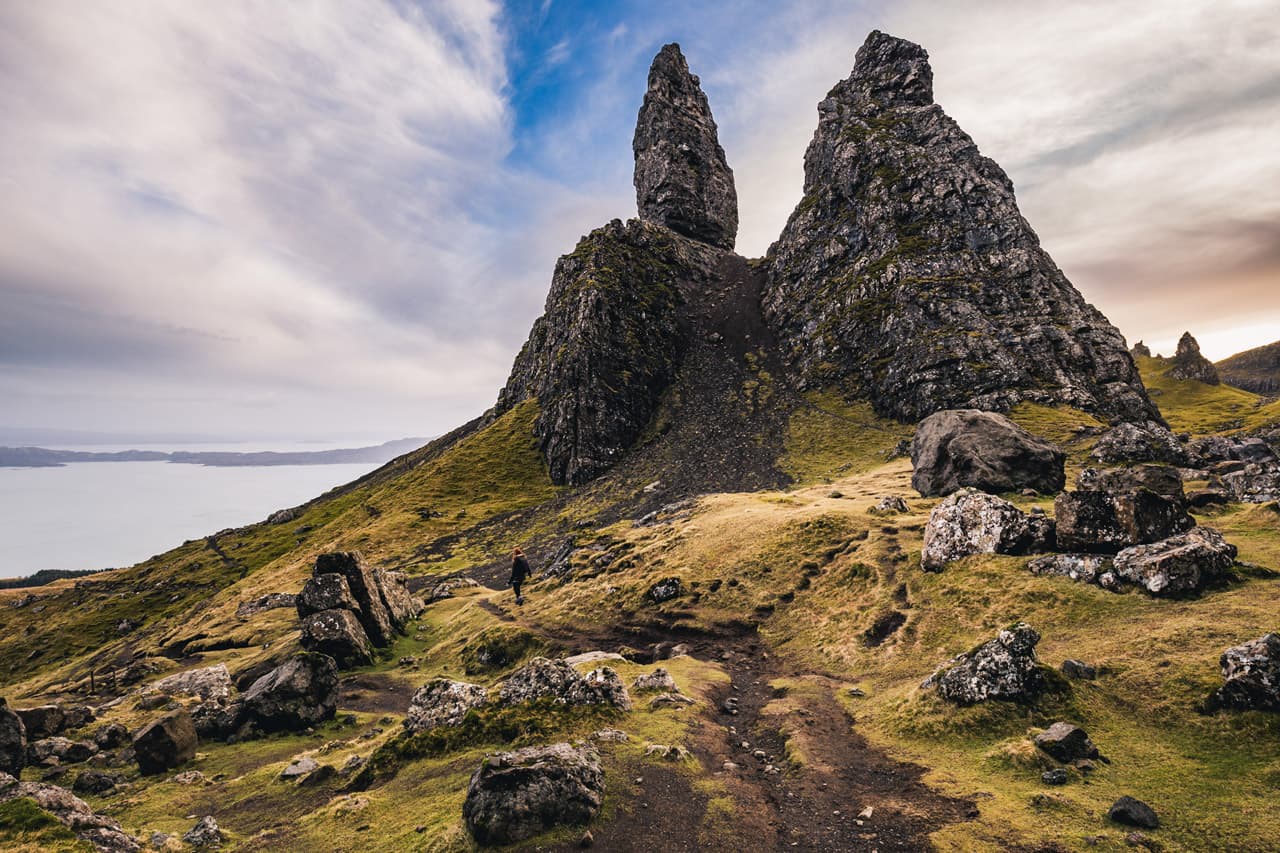 The original plan for Skye was to spend a little time at The Storr and then move further north and make our way back via the Quiraing and the Fairy Pools. In reality we had so much fun exploring Storr that we lost track and time and made the decision to skip the other places and just stay at Storr until sunset before making our way home. We can always go back to visit the other places.
Ever since we got to the base of The Storr I'd been itching to get the drone out and take some photos of the area from above. I only had 2 batteries left with charge so I squeezed every ounce of energy out of them that I could so I had as much time as possible to explore the area.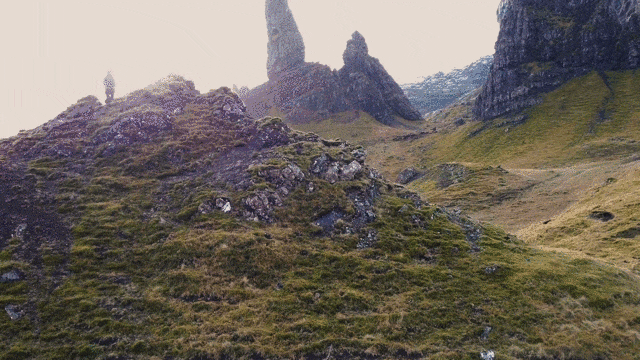 The view was even better from the air, you could really get a sense of scale. And once you got far and high enough you were able to see the entirety of Storr in one go with its beautiful textures and the Cuillin range in the distance. From above the whole area looks like the rocks have burst through the soil, fracturing the grass around them. I've never seen anything like it, it's quite spectacular.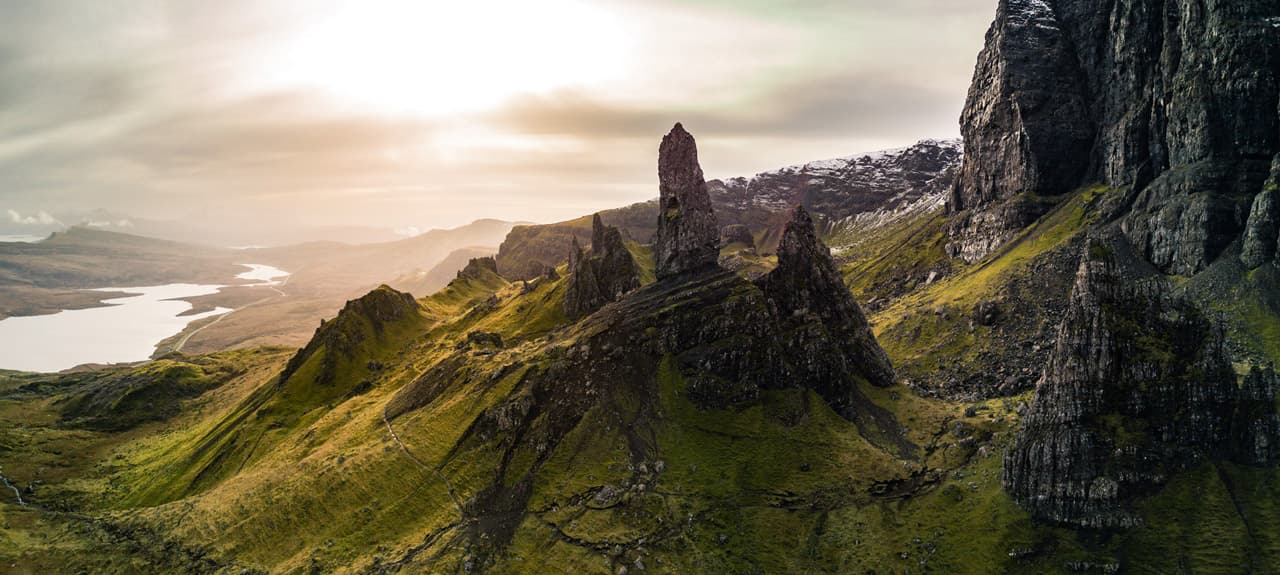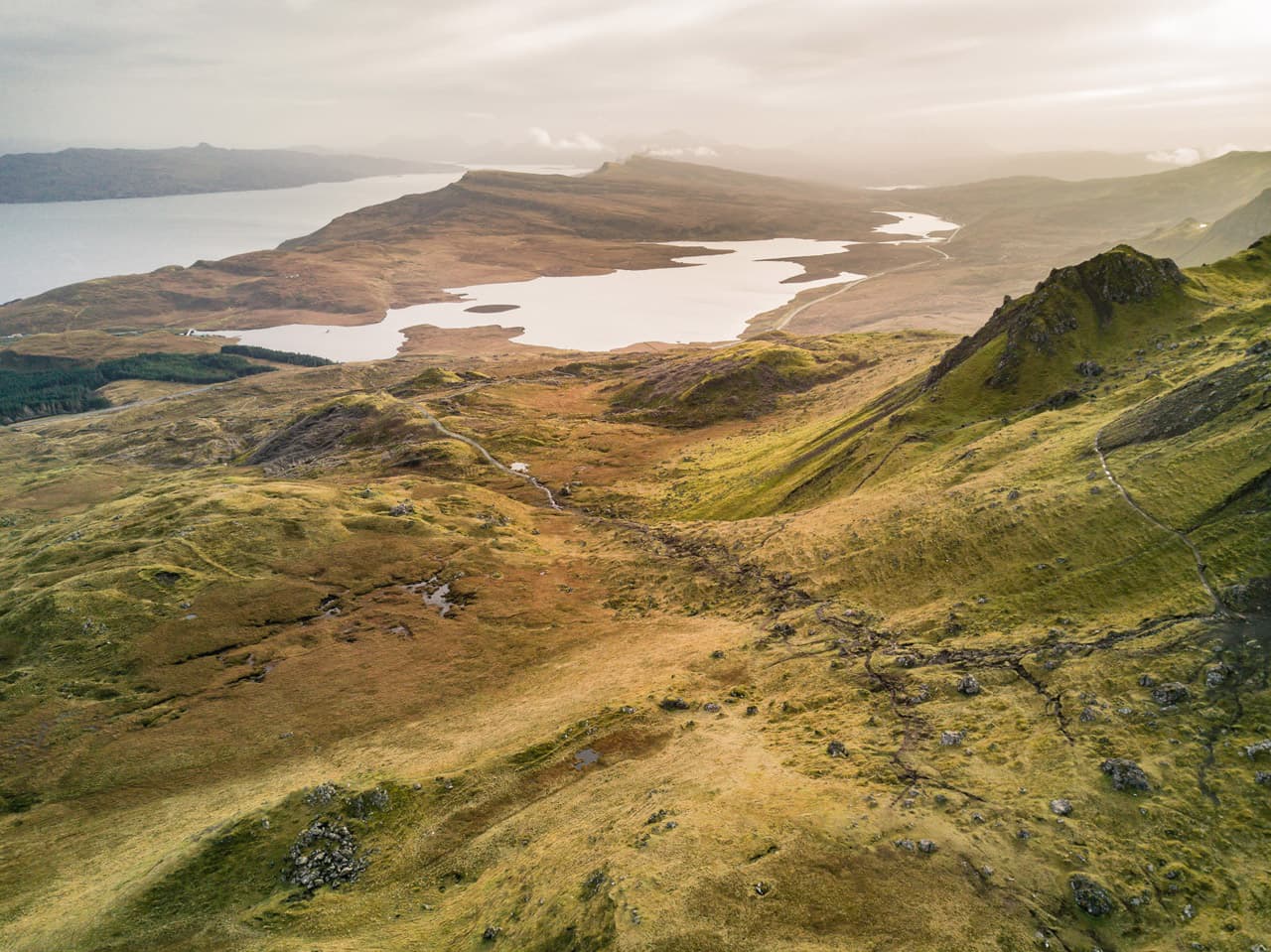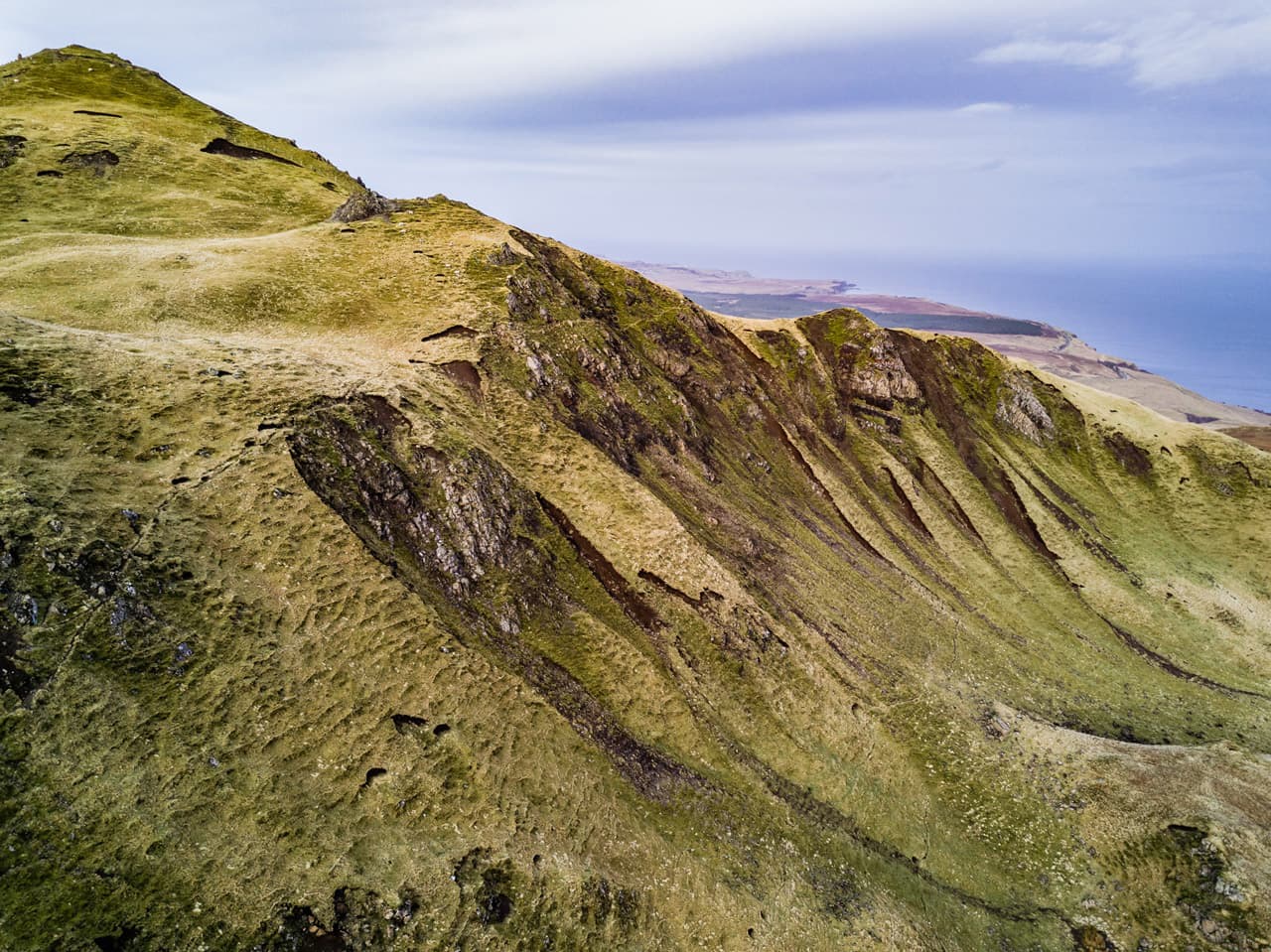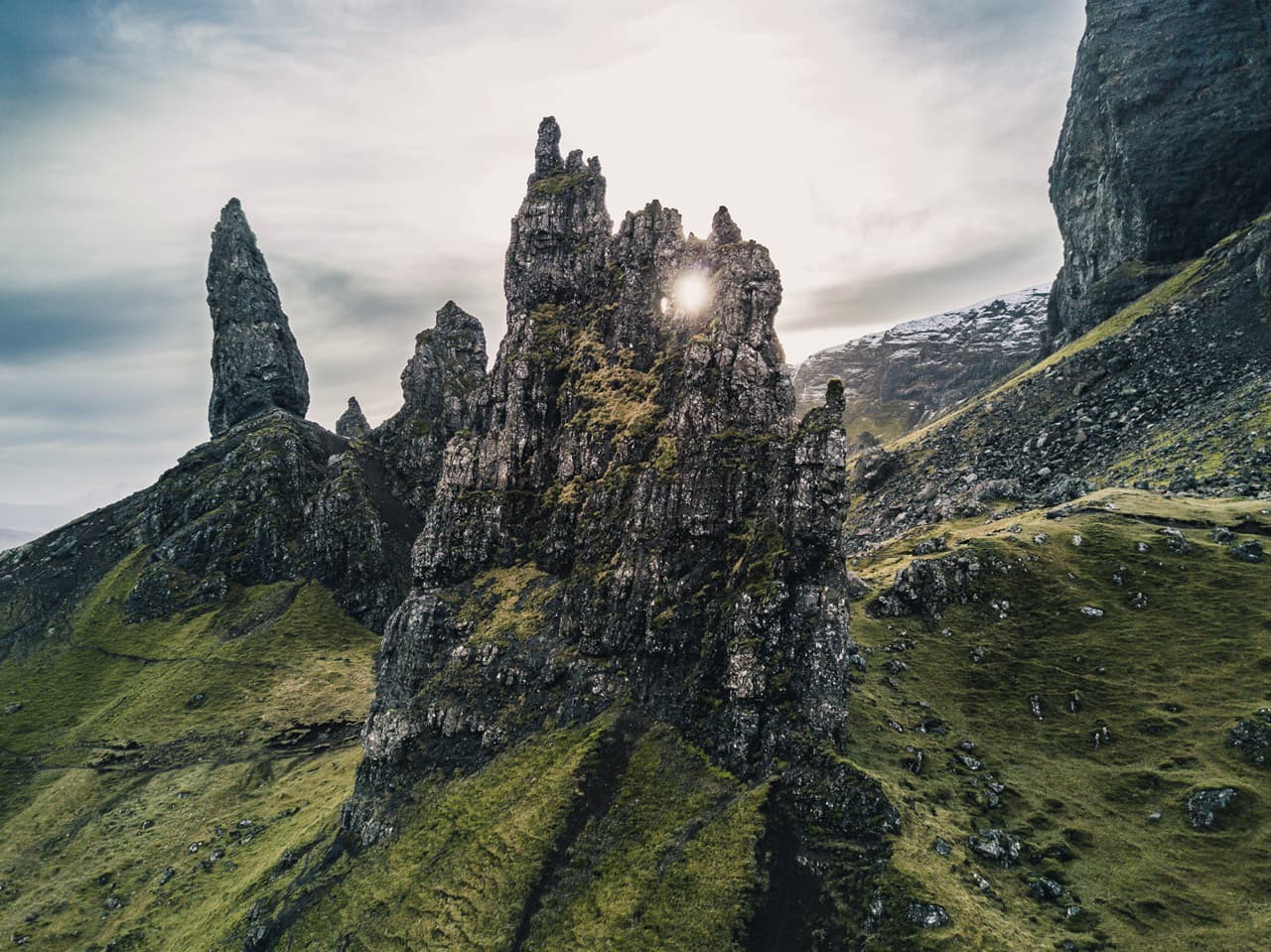 As we slowly meandered our way back down to the car we were treated to the best sunset of the whole trip. The light was warm and the haze gave everything a lovely glow. The view across the Cuillin range was tasty, and the colour when the sun finally went down was something else. We kept saying to each other how it didn't quite feel like the colours were real, I actually had to tone them down a bit in post because they were so crazy and I thought no one would believe them.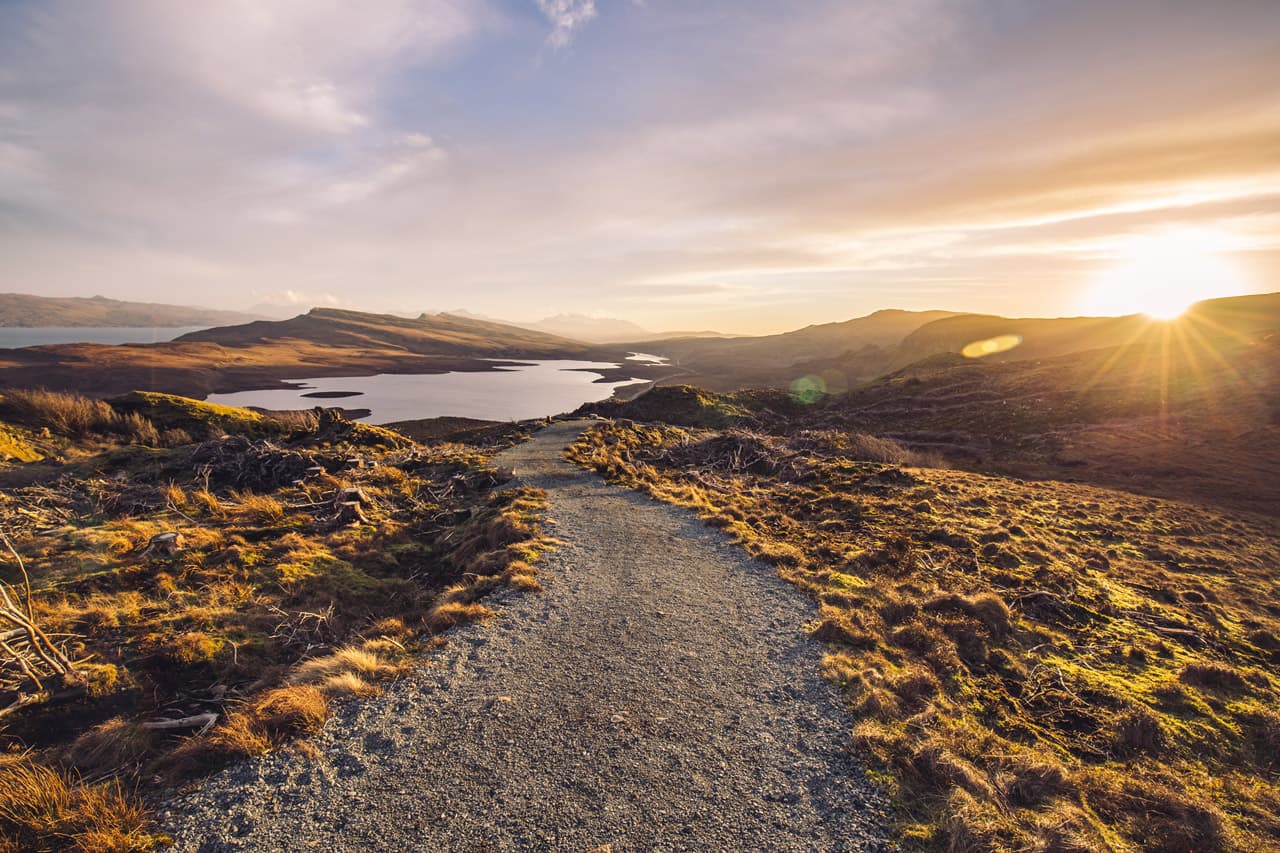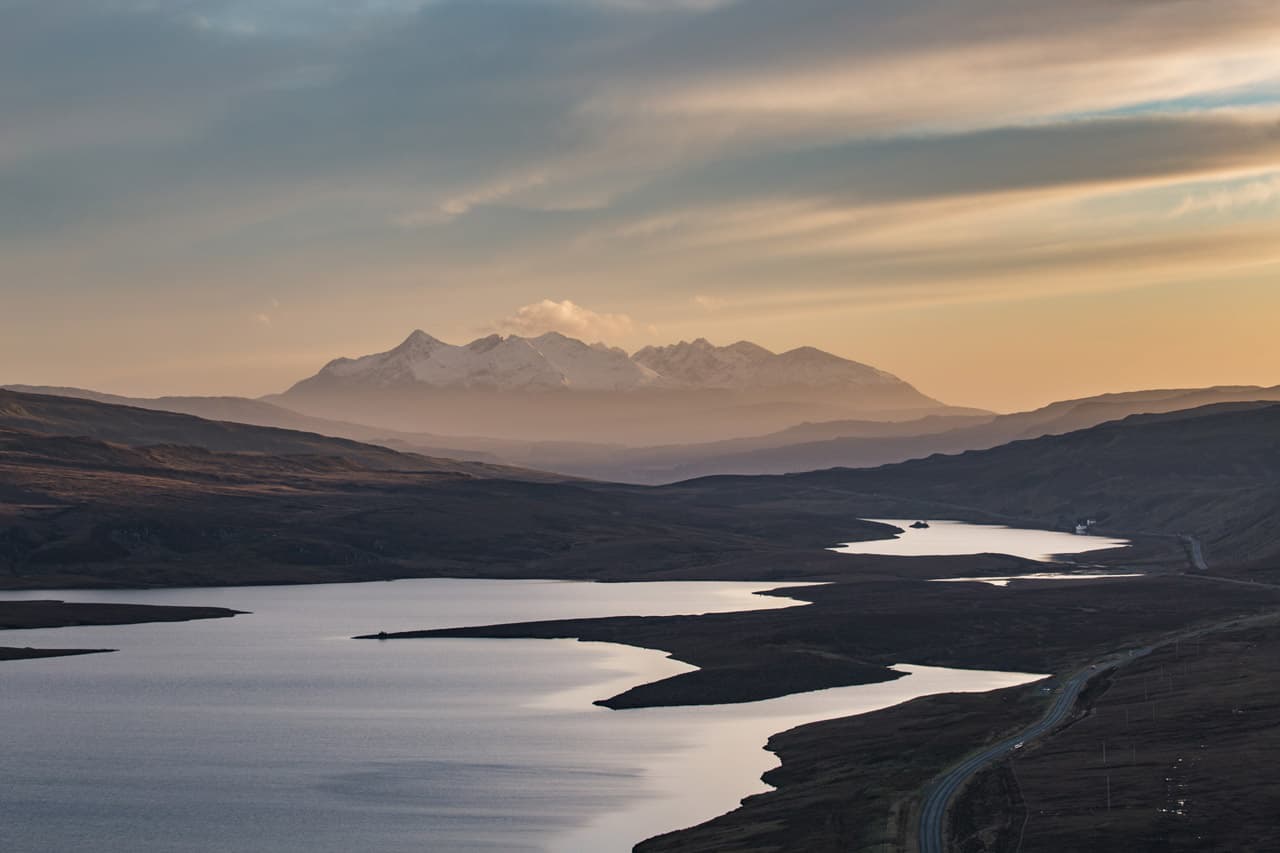 Once the sun went down our time in Skye was over. We hopped back in the car and started the long drive back to Kinlochleven, stopping off in Portree for a bite to eat. We did make one more stop before getting home, just after Fort William, as we had a clear sky and I wanted to get some more photos of the stars. It was pretty cold by that point and we were both exhausted so we didn't hang around for long before heading back to the warmth of the cottage and a cup of tea.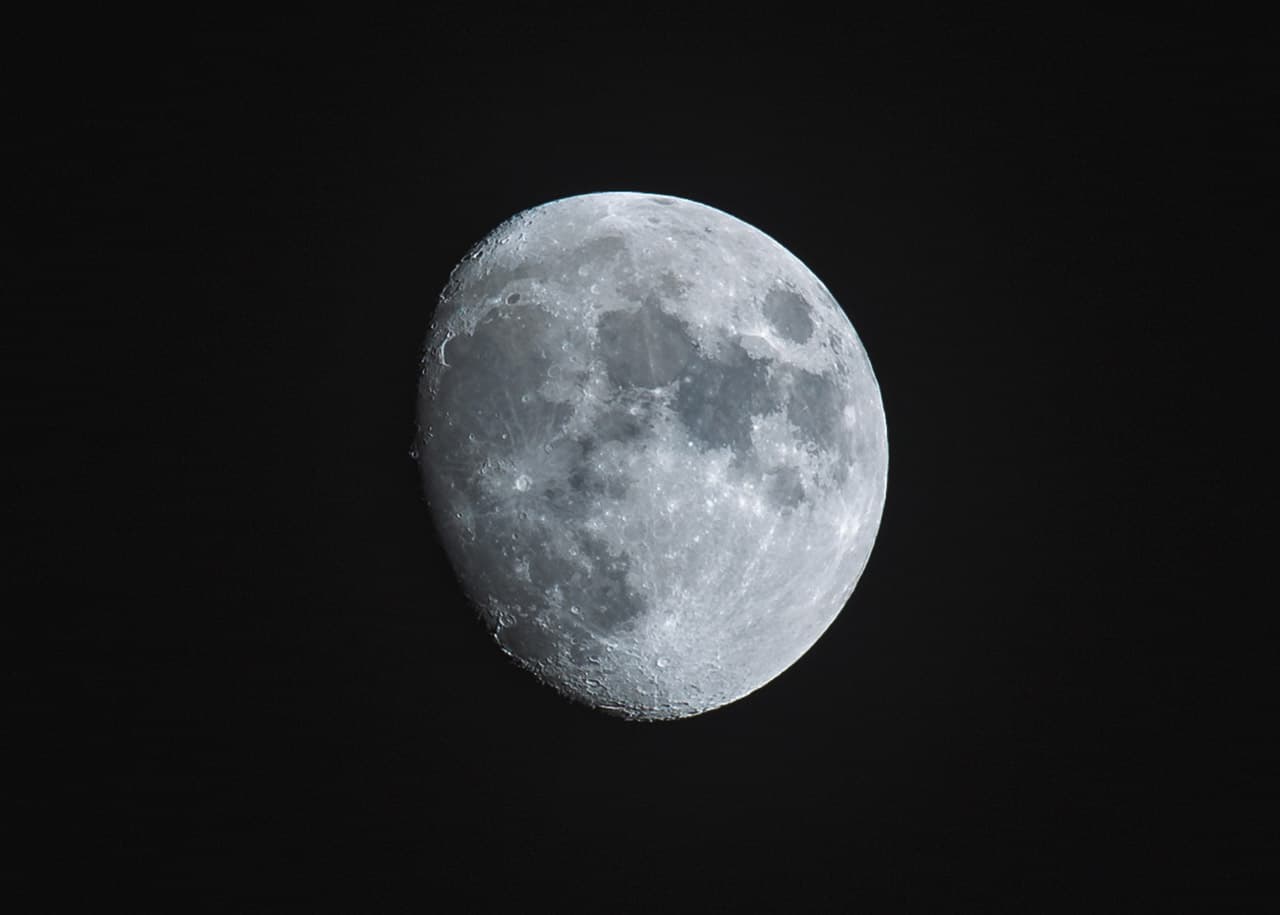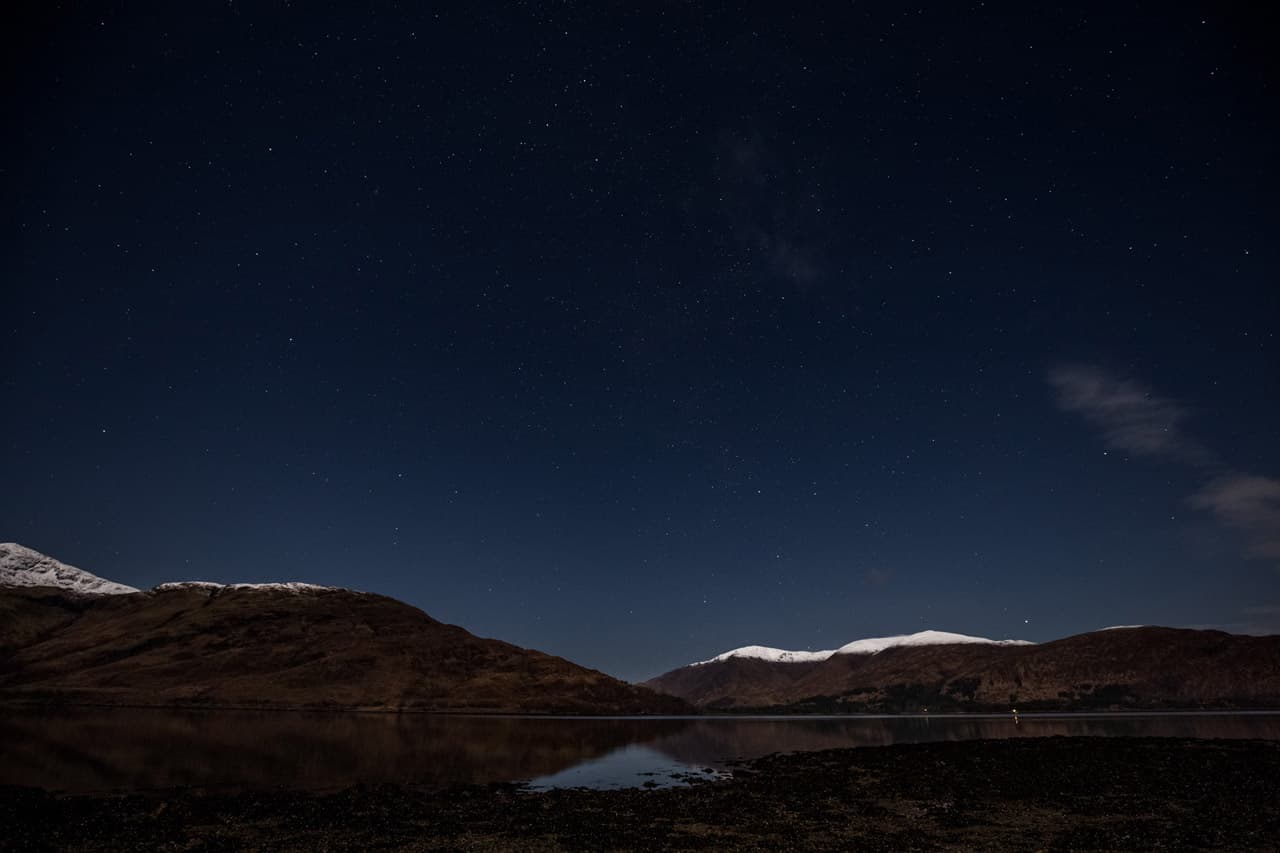 Glen Etive & Loch Tulla
As we made our way out of Glen Coe and back home I saw an interesting valley on the right-hand side and decided to take a little detour into it. I had no idea what to expect, I didn't even know what it was called at the time.
It turns out I'd turned into Glen Etive, a lovely valley with a fun and winding road that goes on for ages until you reach Loch Etive. What I didn't realise at the time was that this was where part of the James Bond film Skyfall was shot. The location scouts for that film certainly had good taste.
Glen Etive was full of surprises, from the beautiful peaks and streams scattered throughout to the very friendly herd of deer that were casually making their way down the road. I'd been itching to make use of my new telephoto lens so we parked up and jumped out for a photoshoot with them. We even had a robin come join in the fun!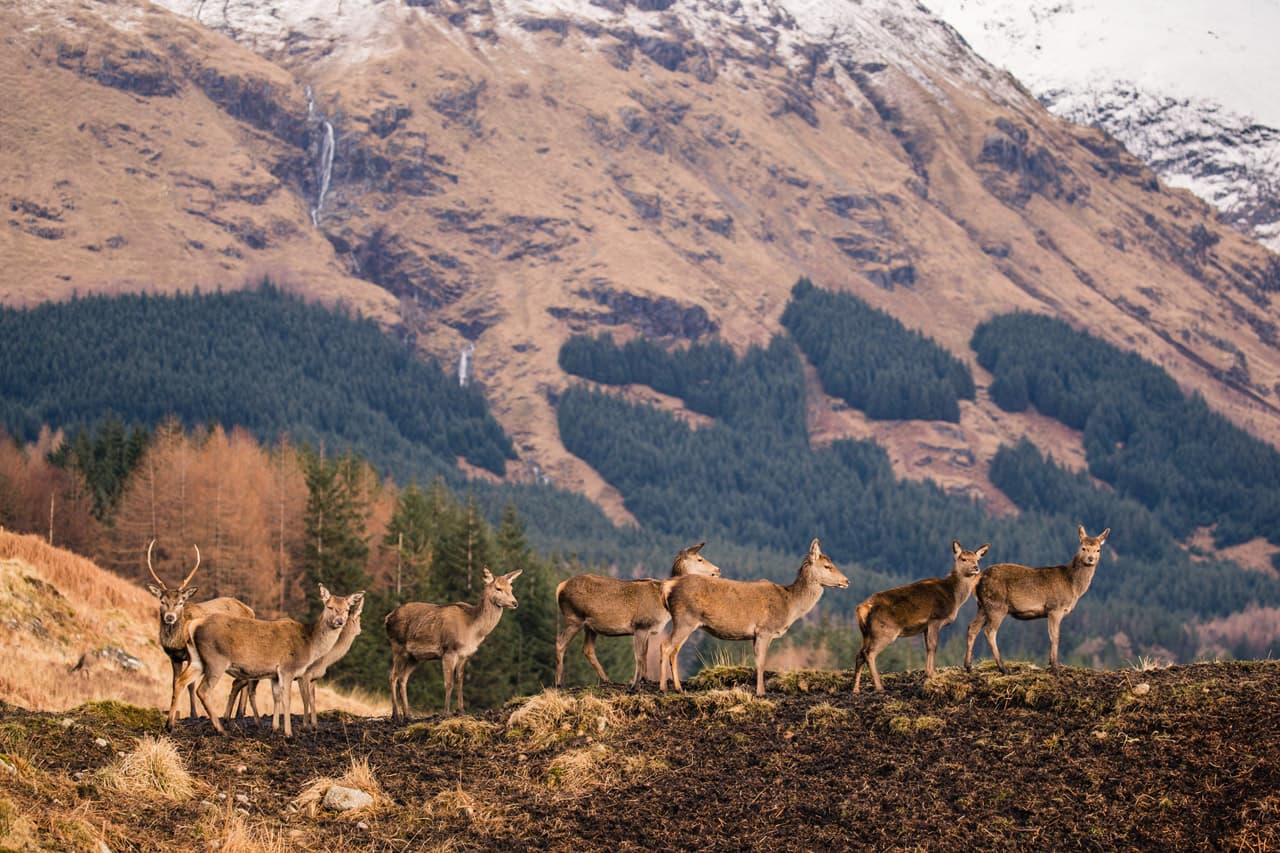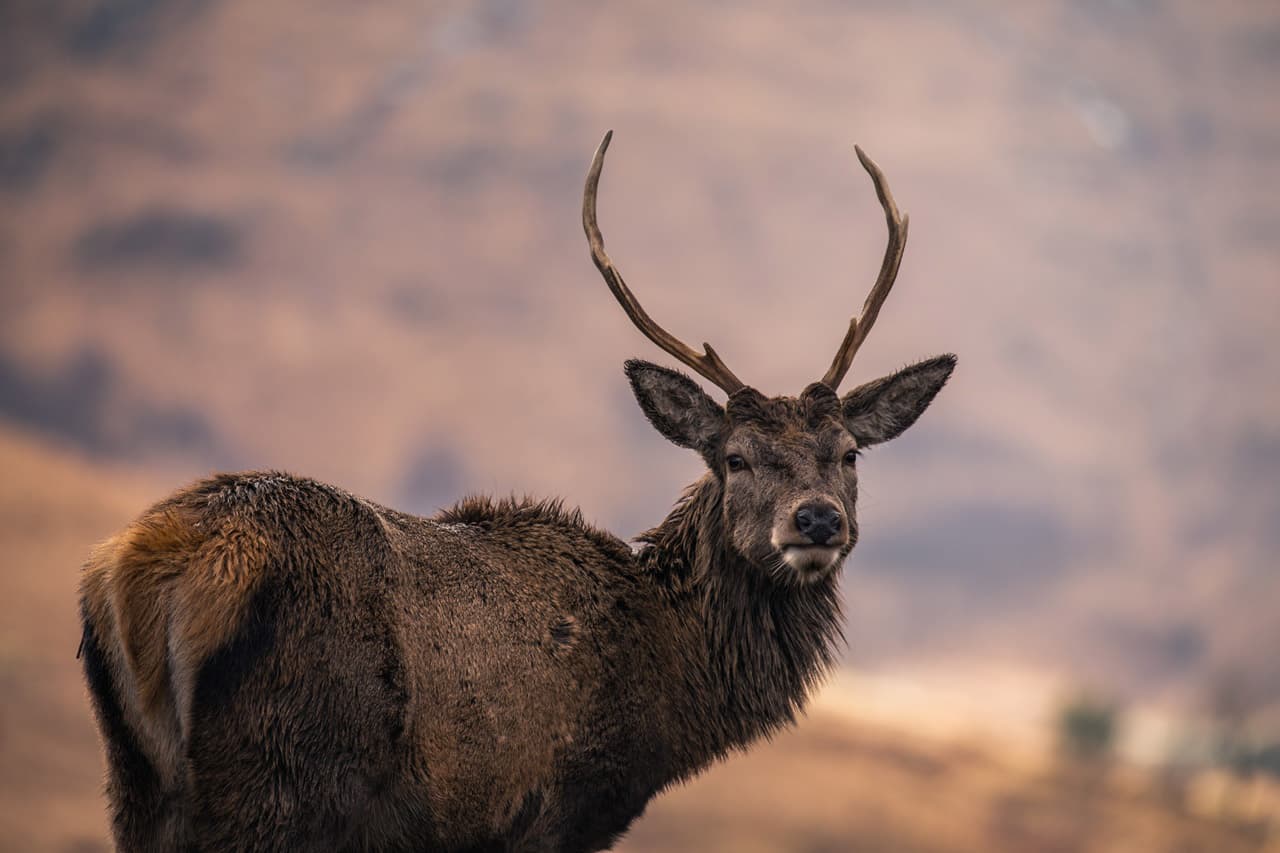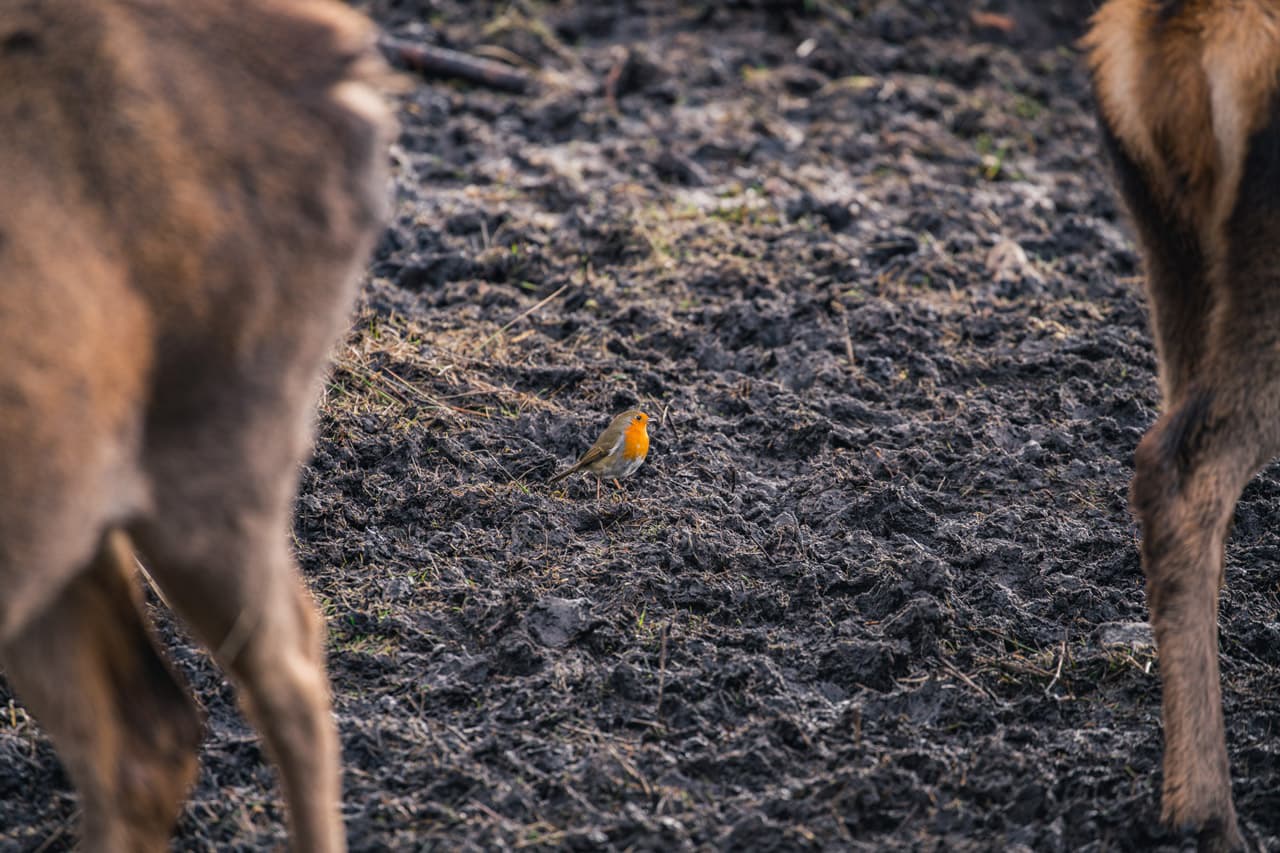 Once we reached the loch we turned back around and made our way back to the A82. This took a little longer than expected as we weren't too far from golden hour and the light was gorgeous. I just couldn't resist it so we stopped more than a few times to get some photos.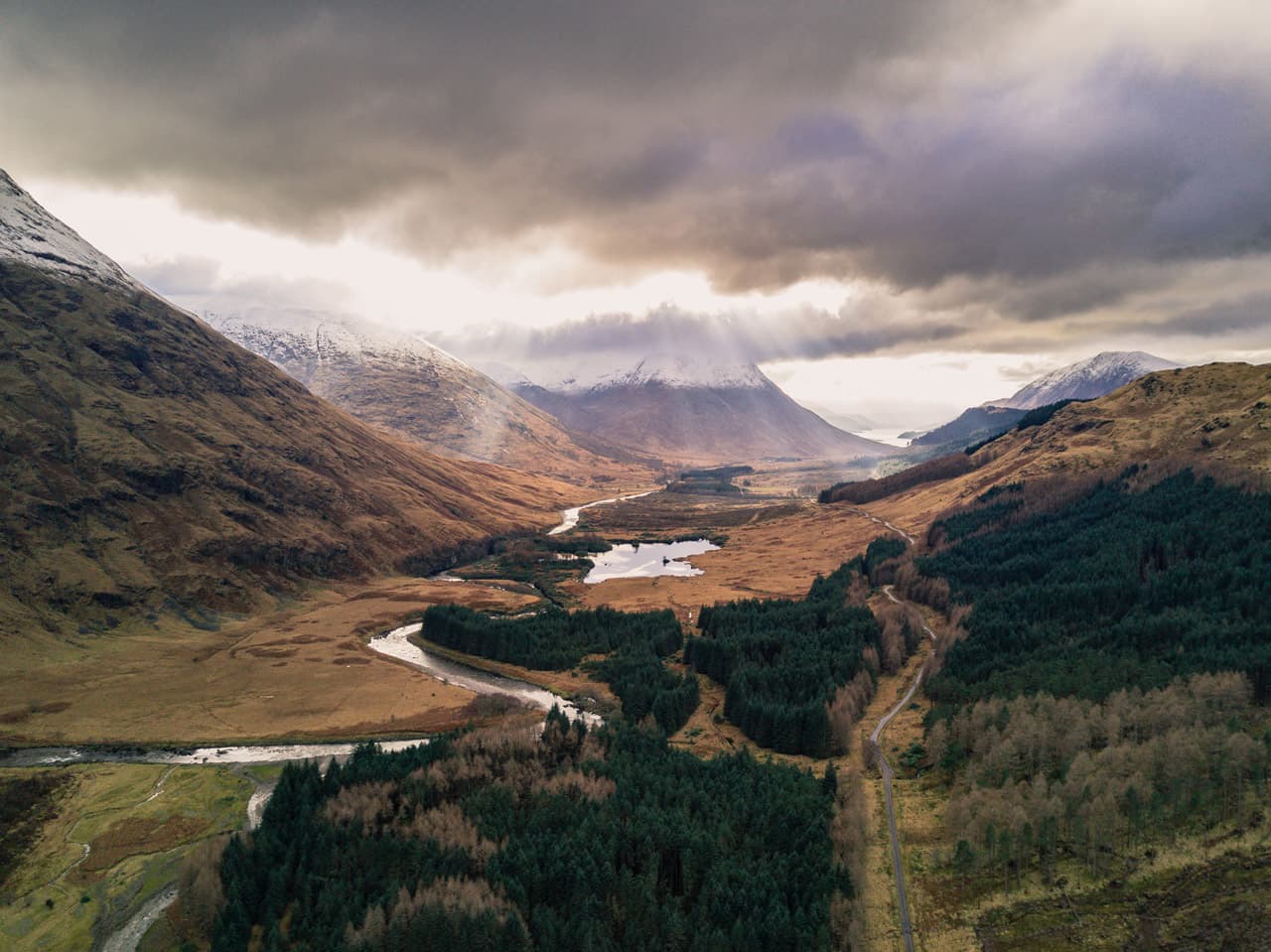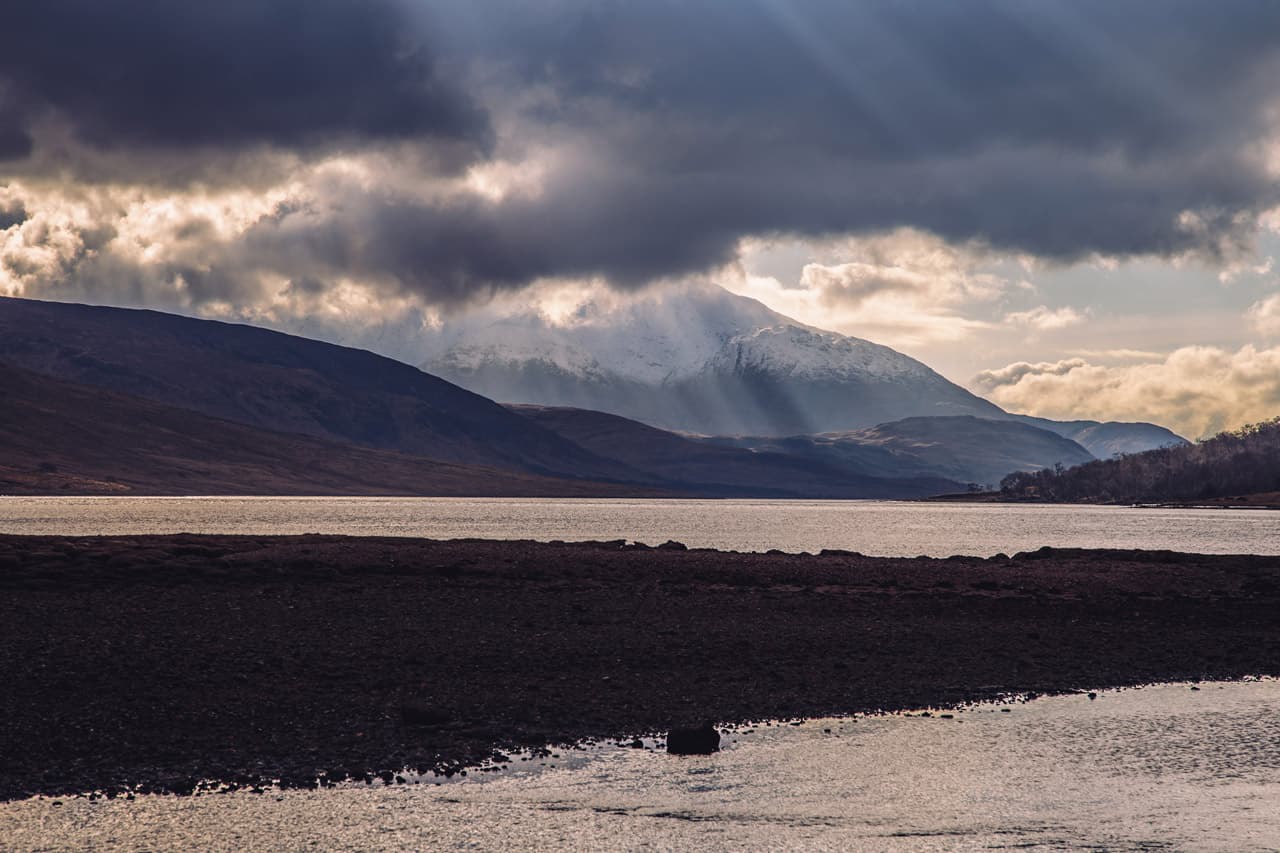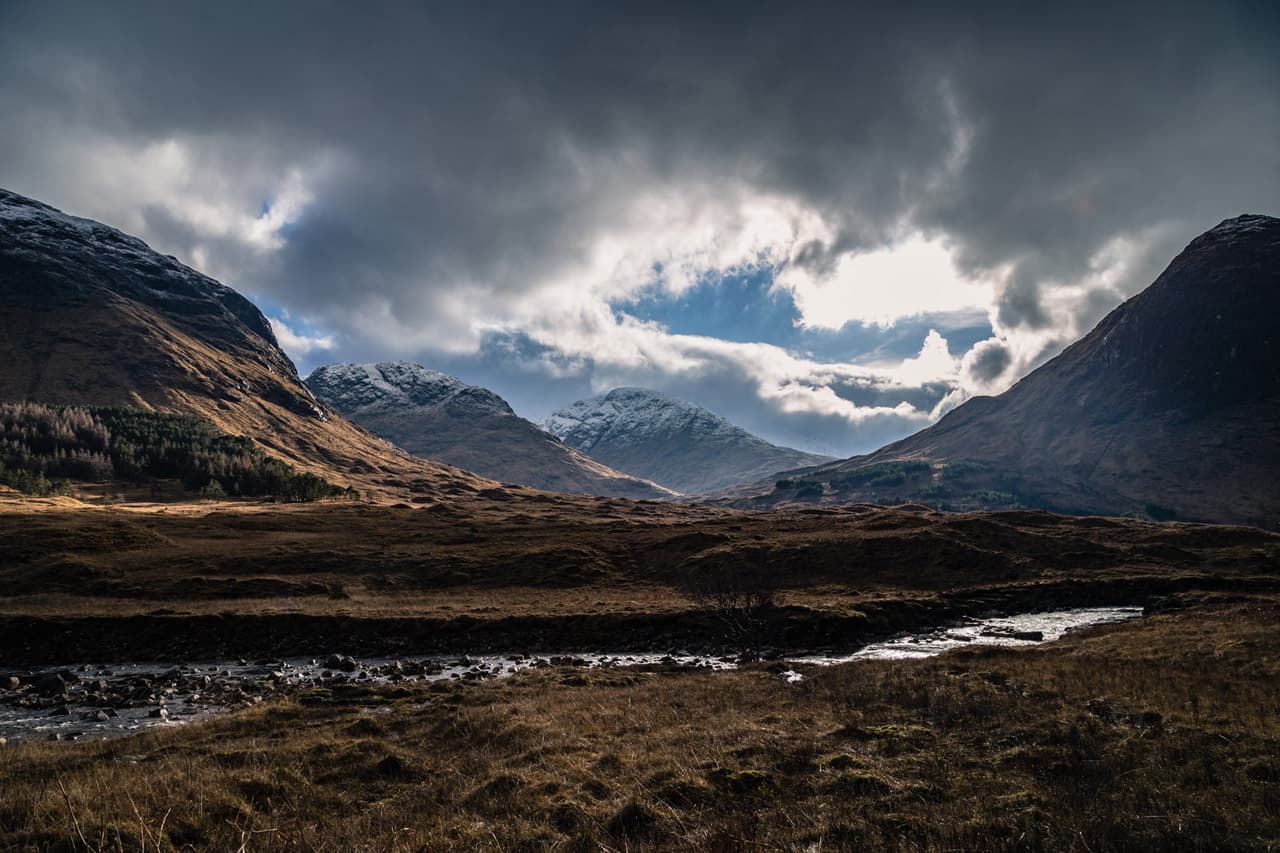 After that our last stop was at Loch Tulla, not far from Glen Etive. We hadn't planned to stop here but the view was fantastic and the rays of sunlight piercing through the clouds in the distance were too much to resist.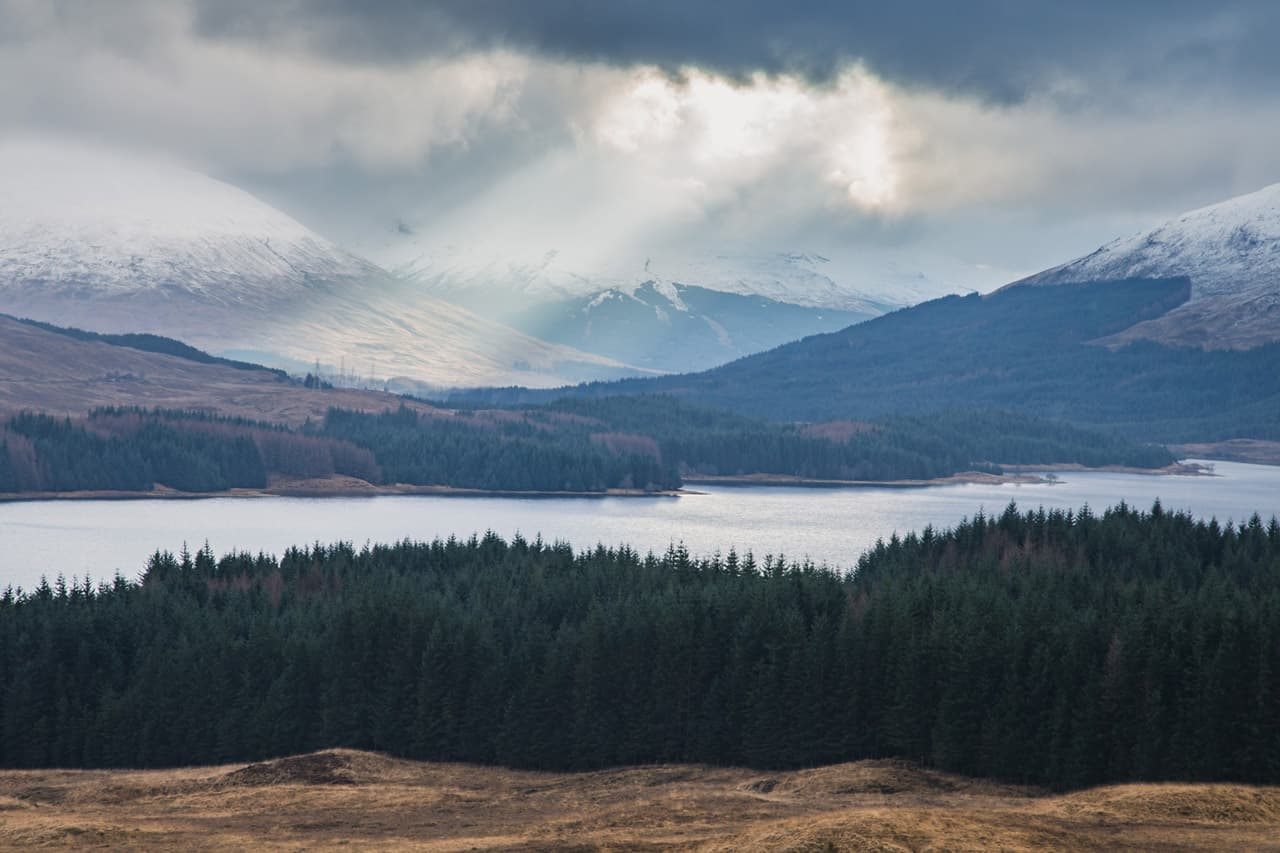 From there I packed up my camera bag for the final time, hopped in the car, warmed up and we made the long drive back to Chester.
Things I'd do differently next time
Something I always think about after travelling is what I'd do differently if I ever made the same trip again. Normally this is just a mental exercise to learn from my mistakes but I thought I'd put some of my thoughts here as they could be useful if you're planning your own trip to the same area.
Keep a camera on you at all times
This one is kind of obvious but I stupidly left my big camera in the cottage the first day as we were "just popping to the shops." Little did I know that were were going to get some lovely light and views on the way and all I had on me was my mediocre iPhone camera.
Keep a tripod on you
It doesn't matter if it's only a mini tripod, just keep one on you whenever you're going somewhere outdoors. I lost track of the number of times I didn't bring my tripod with me and then came across a waterfall or something else that required a long exposure.
Give yourself enough time to explore
The biggest mistake I made with the trip was underestimating how much time we'd need to explore Skye, I was certain we'd be able to hit the main areas in a single day even with the long drive. Next time I'd definitely work out a way to either stay nearer Skye or stay on Skye itself for part of the trip so there's enough time to enjoy it without feeling rushed.
Consider renting a car
I love driving so I really don't mind long drives, especially somewhere pretty. However, in hindsight I do wish I'd considered getting the train to Glasgow or Inverness and renting a car from there.
Work out what season you want to go in
We were lucky as we had a nice mix of weather, mostly staying dry throughout the trip. However, I do want to see the same area at a more friendly time of year, perhaps Autumn.
Scotland: Season 2
All in all the trip had been amazing and both of us wished we could have stayed a little longer. It's made me realise that there's so much more to explore in the United Kingdom. It's so easy to immediately think about flying abroad when travelling but there's actually so much you can do that's right on your doorstep.
The Scottish Highlands far exceeded my expectations and I'm already itching to get back out there. And soon!